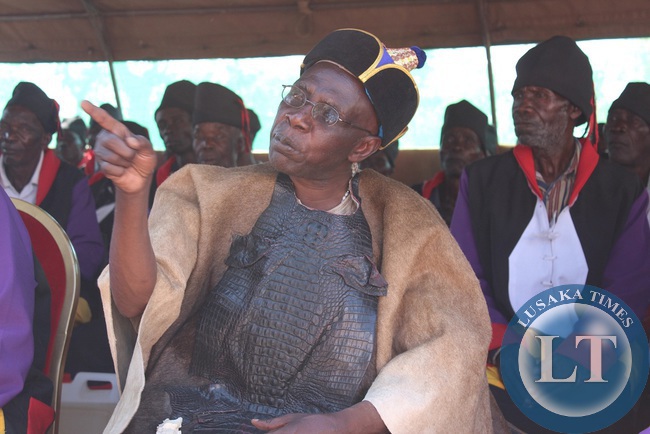 PARAMOUNT Chief Chitimukulu Kanyanta Manga II is concerned about the way mobile voter registration exercise has been conducted and has called for an extension of the exercise.
The Mwine Lubemba said there was need to re-conduct voter registration and resolve some administrative hitches characterised the exercise. He was speaking when Malole Member of Parliament Christopher Yaluma paid a courtesy call on him on Monday.
The traditional leader observed that in some instances materials at most registration centres were inadequate.
"I am also concerned about the registration of voters in my chiefdom because there were no materials, so instead of spending two weeks, most of the days they were not working.
"So i suggested that the officers should come and finish the exercise because they only did three days and they ran out of materials. This is really my big worry," the paramount chief suggested.
He said he would continue working with his village headmen to encourage their subjects to register as voters so that they participate in the forth coming general elections.
"I have been encouraging village headmen and women to ensure that their subjects register as voters. We are the biggest constituency, so we need to have a lot of registered voters so that we can participate in the elections," he said.
The other worry for the tradition leader is the deplorable nature of roads in Malole Constituency which he said needed urgent attention.
"My biggest worry was regarding Nseluka-Kayambi road which i had even told the president about and it's good that i have heard that the contractors have been awarded and biggest hope that the people will have is that the contractor will be on site," he said.
He would continue working with government to ensure that development is brought to the area.
On voter registration exercise, Mr Yaluma who is Mines Minister said cabinet was aware of the technical hitches characterised voter the exercise further assuring that the Government was mobilising to extend registration.
"Cabinet is also aware and the Minister of Home Affairs with the assistance of the Vice President, they gave a detailed account on how they are trying to mobilize and extend and we are assured that there will be no more shortage of material," the Minister said.
The Minister of Home Affairs has put some mitigating measures to ensure that the government moves smoothly and get as many voters to register.
On the roads, Mr Yaluma assured that various contractors engaged to do major and feeder roads in the constituency had been shortlisted and that they were currently mobilising to go on site.
Mr Yaluma assured that President Lungu was aware t and that he had personally wanted the roads should be done in time.
"We need to deliver and ensure that we grow the confidence of the electorates," he said.
[Read 45 times, 1 reads today]