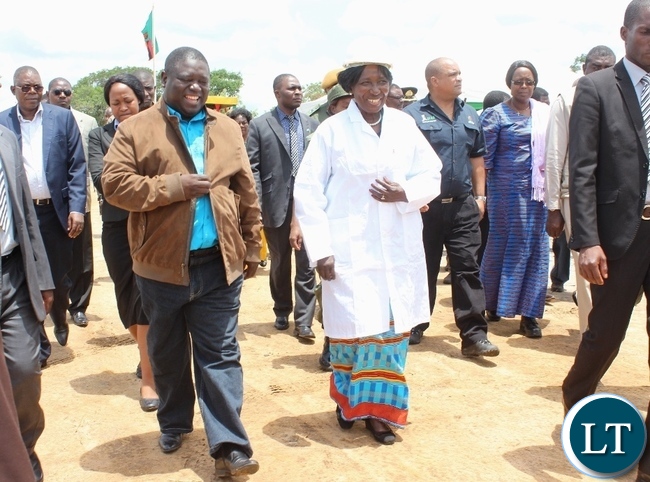 ACTING President Inonge Wina yesterday launched the K16.2 billion countrywide rehabilitation and maintenance programme for primary feeder roads.
And in a rare feat, Mrs Wina charmed Litoya residents when she operated a grader to signify the start of the works.
Mrs Wina, who was clad in a white work-suit and safety helmet, drove for a short distance much to the delight of residents who had gathered to witness the event.
Speaking when she officiated at the ground-breaking ceremony here yesterday, Mrs Wina said the programme has been effected following a memorandum of understanding signed on October 9, 2015 between the Road Development Agency (RDA), National Roads Fund Agency (NRFA) and the Zambia National Service (ZNS).
Mrs Wina, who is republican Vice-President, said the works which will be carried out by ZNS will cover 9,430 kilometres over a period of four years.
She said the programme is part of the Patriotic Front (PF) government's commitment to developing all corners of Zambia, as promised in 2011 when the party came to power.
Mrs Wina also said the roads will open up trade within rural and urban areas.
She said Government has no doubt that the three institutions that have been tasked to do the work on behalf of Zambians will deliver to expectations.
She said RDA is expected to give specifications of the identified roads while the NRFA will be responsible for the timely release of the money.
"For ZNS, we expect them to put the acquired earth-moving machines to good use and also make use of the local labour. As you know, Western Province has no industry," she said.
Mrs Wina said the people of Litoya, in Nalolo district, should be proud to have the countrywide project launched in the area.
She cautioned the residents against tampering with construction materials when ZNS moves on site.
Minister of Works and Supply Yamfwa Mukanga said the ministry, through the RDA, has continued to deliver government programmes aimed at improving the state of infrastructure, particularly roads.
Mr Mukanga said the project will help improve infrastructure which has been in poor state due to inadequate funding.
Western Province Minister Poniso Njeulu said the people of the area are happy with the various development projects that the government has continued to do.
He, however, appealed to Government to tar a segment of the Mongu-Lusaka road near Kaoma.
"The people of Western Province are beginning to appreciate the works that this government has continued to bring to this province," he said.
The event was attended by ZNS commandant Nathan Mulenga, Minister of Livestock and Fisheries Greyford Moonde, his Deputy Lawrence Evans, Deputy Minister of Defence Christopher Mulenga, Western Province permanent secretary Mwangala Liomba, district commissioners and PF provincial chairman Charles Mututwa, among others.