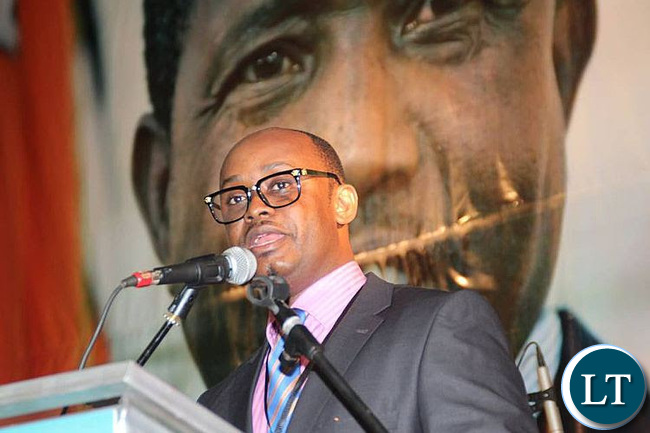 HH'S "ANGLO PROMISE" AS SOLUTION FOR THE COPPERBELT BLEEDS AS MINING GIANT SHEDS OFF 85000 JOBS – STATEMENT BY SUNDAY CHANDA, VICE CHAIRPERSON, PF MEDIA AND PUBLICITY COMMITTEE
Lusaka, Zambia, 09th December 2015 – Addressing a meeting in Chingola a few weeks ago, UPND leader Mr. Hakainde Hichilema was categorical in telling Zambians on the Copperbelt that if elected to Office, he would bring back Anglo American to take over KCM and create Jobs. While Mr. Hichilema is still rejoicing that 4000 miners lost their jobs on the Copperbelt, we want to remind him that his prescribed remedy, Anglo American shares have fallen to a record low as the company said it would sell huge chunks of its business and shrink its workforce by nearly two-thirds. We wish to inform Mr. Hichilema that his prescribed remedy Anglo American will effect changes will see the workforce drop by 85,000, from 135,000 to 50,000. The group has been forced to restructure after the collapse of commodity prices slashed profits. Anglo will also suspend dividend payments for a year, and consolidate from six to three businesses.
Zambians must disappointed that while Mr. Hichilema sought to score cheaply from Glencore's shedding of 4000 jobs, he has been promising people on the Copperbelt jobs through Anglo American which is shedding 85,000 jobs. We challenge Mr. Hichilema's hypocrisy to contrast these figures with the 4000 jobs lost on the Copperbelt Province. We are also demanding for Mr. Hichilema to apologize to the miners on the Copperbelt for insulting them that they were born miners and all they have done is mining and as such PF's diversification option would not work. This is definitely skewed reasoning on the part of Mr. Hichilema because he himself was born in a cattle-rearing family but did anyone stop him from studying economics?
Apparently, Mr. Hichilema believes Zambians are so gullible and have suffered collective amnesia to forget Anglo American history with the Copperbelt Province. When Glencore shed off 4000 Jobs on the Copperbelt, there was jubilation in UPND as they assumed the miners would easily get swayed by being promised to be taken back to the period Anglo American pulled out of Zambia during the reign of late President Levy Mwanawasa. Zambians recall how the privatization exercise earlier in the years and Anglo American's decision to pull out condemned Copperbelt to a Ghost City. Yet Zambians know that Mr. Hichilema remains one of the key beneficiaries of Zambia's privatization exercise to the extent that he cannot tell Zambian miners how much he was paid for valuing their assets.
Zambians cannot trust Mr. Hichilema's judgement on key national matters. He has never told Zambians how much he was paid for the services he rendered to the privatization exercise which impoverished thousands of Zambians on the Copperbelt thereby crippling the Copperbelt Province. Mr. Hichilema as a Capitalist, is a defender of capital who speaks for capital. He has never defended the interests of the miners, not even during the privatization of the mines. His record clearly shows that he has and will continue to defend Capital interests as priority to those of the workers.
[Read 25 times, 1 reads today]