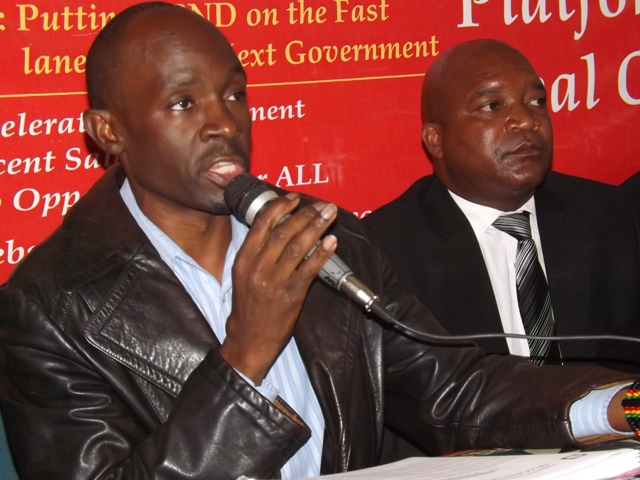 THE United Party for National Development (UPND) in Kabwata Constituency is divided over the alleged suspension of its chairperson, Ackim Moono. Mr Moono is alleged to have been suspended from the constituency committee for gross indiscipline and misconduct which was detrimental to the interest of the party.
UPND Kabwata Constituency information and publicity secretary, Edmond Lifwekelo and Kabwata Ward chairperson Mambo Mweenda announced the suspension on Sunday on grounds that Mr Moono had been collecting money from business houses on the pretext that he was doing this on behalf of the opposition party. But yesterday, UPND Kabwata Constituency secretary, George Michelo said Mr Moono was still chairperson of the committee because the purported wards which had suspended him did not meet to reach such a consensus.
Mr Michelo said the UPND had procedures which were supposed to be followed when dealing with issues and that, all the five wards were behind Mr Moono. He said in a statement that Mr Lifwekelo was not the vice publicity secretary as he claimed. "We want to confirm that Mr Lifwekelo was replaced when he got a job and left town, so he is no longer the publicity secretary but a mere member of the party," he said.
On Monday Mr Lifwekelo issued a statement in his capacity as the vice publicity secretary announcing the suspension of the committee chairperson but could not be reached for a comment as his mobile phone was off. Deputy party spokesperson Edwin Lifwekelo said the party had summoned both Mr Moono and Mr Lifwekelo (Edmond) to the secretariat to explain the two sides of the story.
Mr Lifwekelo also cautioned all party members against engaging in premature campaigns as no candidate has been adopted yet. He said the party structures had the responsibility to adopt candidates and anyone who would be found wanting, risked being left out.
"The party's position is that no aspiring candidate must engage in early campaigns including wearing party regalia as doing so, will attract disciplinary action against such members," he warned."
[Read 15 times, 1 reads today]