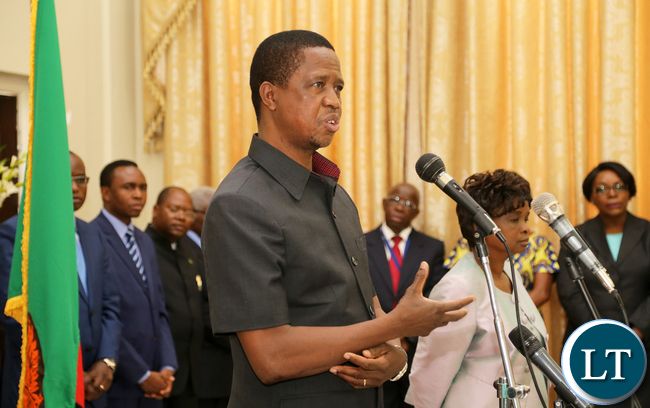 President Edgar Lungu has assured the nation that cost implications will not hinder government's commitment to implementing the new constitution.
Speaking during a swearing in ceremony of six officials at State House this morning, President Lungu said democracy which Zambia has embraced is expensive.
The President said the costs will not stop government from implementing the challenges and changes following his assenting of the Constitutional Amendment Bill on Tuesday.
He said while most Zambians are talking about political changes such as the 50percent plus 1 and running mate clauses, government and the judiciary have also changed.
The President adds that the changes will call for more resources to set up the constitutional court and courts of appeal which have to come into being.
He has noted the need for all civil servants and relevant offices to work together and ensure that the desires of Zambians are actualised.
President said he has been liaising with the Chief Justice and Speaker of the National Assembly to ensure the three arms of government respond to the challenges and changes in the new constitution.
He has also instructed newly sworn in Chairperson of the Industrial Relations Court Justice Jones Chinyama and his Deputy Derrick Mulenga to ensure that dispensation of justice is expedited especially among the poor.
President Lungu has also advised newly sworn in Lusaka Province Commissioner of Police-Operations Nelson Phiri to rid the service off bad elements.
He has observed that the police have of late been getting away with cases such as shooting of innocent people among others.
Others sworn in are Police are Peter Chingaipe as Prisons Service Commission Chairperson, Dr. Felix Phiri as National Coordinator for the Centre for E-Government and ICT and Public Policy Specialist at the Public Service Management Division Chikula Chinyanta.