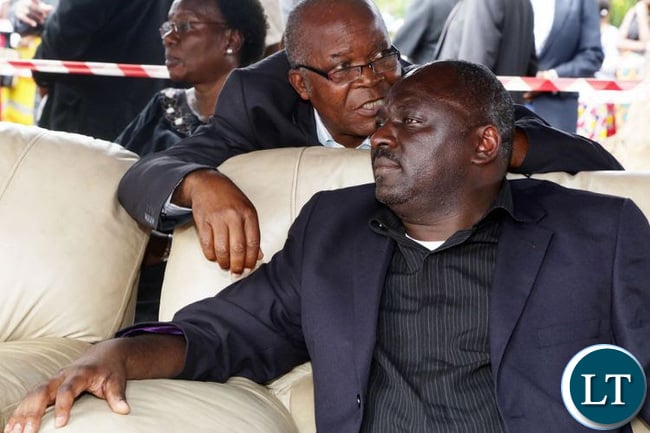 Patriotic Front (PF) Secretary General (SG) Davis Chama has said that championing tribal hatred and politics is a primitive way of conducting politics.
Speaking during Pan African Radio's OFF the CUFF programme anchored by Hermit Hachilonde, Mr. Chama said that it is utter backwardness to define anyone based on tribe, adding that even entertaining the idea of tribal voting is primitive.
He has however urged the electorate to cast aside sectarian interests and choose leaders who will develop Zambia regardless of tribe and region.
"It is primitive to categorize anyone on the basis of their tribe, because we are one Zambia one nation, in a case when God created this Earth, God only created two people Adam and eve, so we are all children of two parents, anyone is my relative because we are all interconnected, eee.. So this thing of categorizing each other on the basis of tribe is very primitive, even where people say voting on the basis of tribal is very primitive, we must be looking for leaders who will provide leadership who will develop our country, because when you elect a leader who is going to provide for each and every member of the society, you can have your tribes men in statehouse, but he will not pay school fees for you, he will not buy food for you, you can have your tribes men in statehouse, but he will not visit statehouse , your status will never change and you will remain poor, but you will just be proud to say I now have tribesmen in statehouse, so what will it benefit you and your family," Mr Chama said
And the PF SG has urged all political parties to tone down on hate speech which has the potential to destabilize the country.
Mr Chama has also reaffirmed that in the New Year, it is imperative that everyone embraces and preaches peace and messages that will unite Zambia as opposed to divisive statements at the expense of national development.
'Now we are in a new year, we don't want this blame game to continue, we are saying please let's preach peace, let's peace decency in politics, let's be mindful of words we use, let's be mindful of the language that we use in politics so that we continue to be united party, united country, you know Zambia through one Zambia one nation motto that was promoted by Dr. Kaunda, and we give you Dr. Kaunda a massive credit because now you cannot tell by a name what tribe somebody is, in my house for instance, I have a lot of Bandas, my nephews but there are Chishingas because on my mother's side am a Chishinga although we are called Bembas, am not a Bemba, am a Chishinga, from Luapula province. In Luapula province you don't find Bembas, Bembas you only find them in Kasama, in Mungwi District, that is where you find Bembas, you see I have a Muliyokela in my house,, my nephew muliyokela," Chama said
[Read 26 times, 1 reads today]