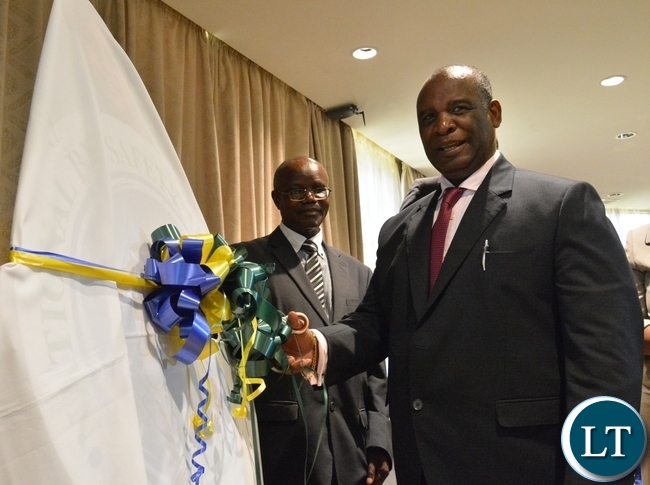 Minister of Higher Education Michael Kaingu has instructed the provincial administration in Southern Province to find land for construction of a university in Choma.
Dr. Kaingu said that Government is committed to ensuring that there is a university in all the provincial headquarters.
He said that the university cannot be constructed in Livingstone despite land being available because Choma is the provincial headquarters.
Dr. Kaingu said that there was need to cement the declaration of Choma as the new provincial headquarters by putting up infrastructure.
The Minister was speaking when he called on Southern Province Deputy Permanent Secretary Douglas Ng'imbu who represented the provincial Minister Nathaniel Mubukwanu.
And Mr. Ng'imbu assured the Minister that they will look for land to enable the construction of the University in the province.
Mr. Ng'imbu said that it has been the cry of the people in the province to have a university.
And Dr Kaingu has said that it is disappointing that some Zambian contractors have often times failed to undertake their tasks diligently despite Government having tried to empower them
Dr Kaingu said it was a pity that local contractors had been a let-down in most of the construction works the Government had been giving them.
Speaking during the tour and inspection of TEVETA affiliated colleges in Southern Province, Dr Kaingu said Government had tried its best to empower local contractors, but had been disappointed with the manner contractors had performed.
"It is a pity that despite efforts made by the Government to empower local contractors, their have been a let down, we have tried our level best as Government to ensure our local people are given contracts but instead we have been disappointed," he said.
A local contractor, Liwanga Contractors that was engaged to construct and renovate Kasiya College in Pemba deserted the college.
Dr Kaingu said in 2009, Government awarded a contract to Liwanga Contractors to renovate Kasiya college in Pemba district at a cost of K7 million but up to now nothing was completed as per agreement.
But one of the surviving worker for the contracts said workers deserted the place because of lack of funds.
Dr Kaingu visited Kasiya Business and Secretarial College and Choma Trades in Choma district.
And Kasiya college principal White Chisi said the college had for years continued to produce quality secretaries, adding that more courses had been introduced to accommodate a number of school leavers.
[Read 91 times, 1 reads today]