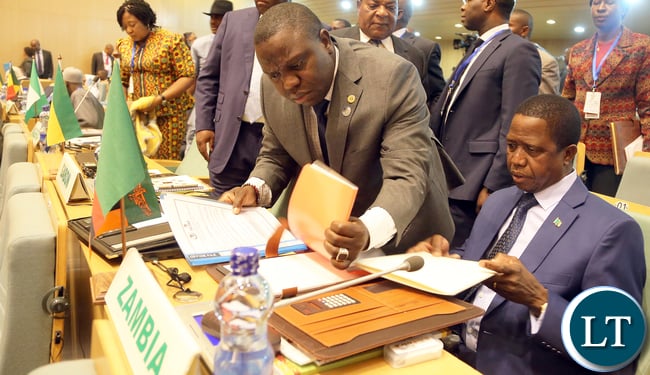 PRESIDENT Edgar Lungu has upheld his promise to only undertake international trips that are economically beneficial to Zambia, Foreign Affairs Minister Harry Kalaba has said.
He said here yesterday that the President's meetings with the heads of the International Fund for Agricultural Development (IFAD) and Food and Agriculture Organisation (FAO) tomorrow were a demonstration of his determination to see Zambia's diversification programme to its logical conclusion.
Mr Kalaba said Mr Lungu's administration was eager to shift Zambia's economy away from over-dependence on copper mining.
He said the President's meetings with FAO director-general, José Graziano da Silva and his IFAD counterpart, Kanayo Nwanze were crucial to Zambia's fortification of the agriculture sector and mitigation of the effects of climate change.
Mr Kalaba said this when he addressed Zambian journalists at the Westin Excelsior Hotel, ahead of the President's arrival in Italy today.
He said apart from his visit to the Vatican tomorrow, Mr Lungu would be here to draw from the expertise of the Rome-based organisations in order to cement the agriculture sector and, thereby, fight hunger and poverty among the Zambian people.
IFAD is the leading multilateral investor in the livelihoods of poor rural producers in developing countries worldwide, including Zambia.
Its work is directed by the needs and concerns of poor smallholder farmers, agricultural labourers, pastoralists, foresters, fishers and small entrepreneurs in rural areas.
IFAD's highly specialised mission is to enable poor rural people to overcome poverty, as its overarching goal is to help them improve their lives by building farm and non-farm enterprises that are viable, sustainable and integrated into national and global markets and value chains.
By raising productivity, the programmes IFAD funds make it possible for smallholders to move beyond subsistence farming and grow surplus produce for the market.
The three main goals for FAO are eradication of hunger, food insecurity and malnutrition, as well as sustainable management and utilisation of natural resources, including land, water, air, climate and genetic resources.
Mr Kalaba said the President had kept his promise to only undertake trips that would attract investments to Zambia.
"The President is serious about seeking investments into the energy, agriculture and all the sectors as Zambia needs to overcome its economic challenges. Climate change has not spared us and so we need alternative sources of energy.
"This is an important trip and the President is serious about cutting down on costs; that is why I am the only minister who has accompanied him here," Mr Kalaba said.
President Lungu is expected to land at Fiumicino Airport in Rome at 12:40 hours, local time and will be in Italy up to Saturday, when he leaves for other business engagements in Paris, France.