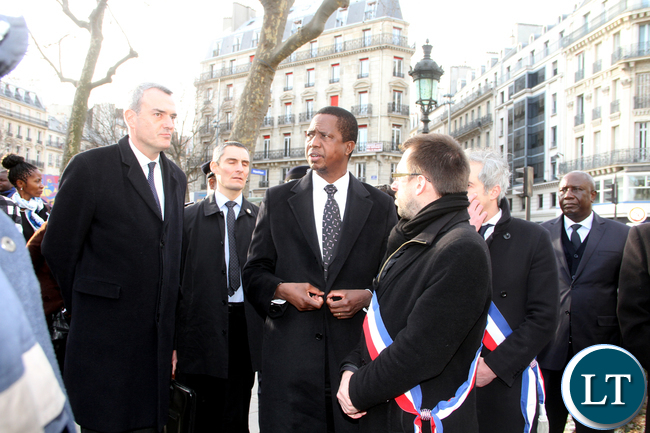 PRESIDENT Lungu today steps up his drive to attract foreign direct investment (FDI) to Zambia with a string of engagements with potential investors in key economic sectors in France.
He will begin with a breakfast meeting with the French business community and assure potential investors that their investments will be safe in Zambia as part of his official visit to the European nation at the invitation of President Francois Hollande.
The President has a 'punishing' schedule with engagements with potential investors in the key sectors of the economy, including agriculture, energy, tourism and mining.
The meetings will culminate into the signing of five memoranda of understanding covering various sectors.
The President will also hold talks with Mr Hollande at which the two leaders are expected to discuss wide-ranging issues aimed at strengthening bilateral relations.
President Lungu will kick off his tour of duty with a breakfast meeting with selected members of the powerful French Council of Investors in Africa (CIAN) at Le Meurice Hotel in the morning.
Special assistant to the President for press and public relations Amos Chanda said here yesterday that as Zambia's top diplomat, the President has stepped up efforts to woo foreign direct investment to the country.
Mr Chanda was briefing the media during a luncheon hosted in honour of the President and First Lady Esther at the residence of Zambia's Ambassador to France Humphrey Chibanda.
The luncheon was hosted by Zambians living in France.
"The President has just completed his successful visit to the Vatican City and today begins his official visit to France at the invitation of His Excellency Francois Hollande," Mr Chanda said.
"During the meetings the President is expected to assure the investors that Zambia is a safe investment destination and that their investments in the country will be safe."
Mr Chanda said it is important that the President gives the French business community correct information on Zambia's economic situation.
This, he said, is in view of some false information peddled by some unpatriotic Zambians last years that the country had introduced foreign exchange controls.
Mr Chanda said later in the day, the President will meet another group of investors to promote alternative energy and lobby for support towards rural electrification.
President Lungu will also meet former French minister of energy Jean Loius Barloo who is founder of Energies for Africa Project, which aims at lighting Africa using renewable energy with a fund of up to $5 billion by 2018.
In the afternoon, Mr Lungu and Mr Hollande will hold bilateral talks that will end with a marathon signing ceremony.
The agreements to be sealed will be between Zambia and France Development Agency on the framework convention of the agency's activities in Zambia.
Other MoUs will be between France 24 and the Zambia National Broadcasting Corporation, declaration of intent between Business France and the Zambia Development Agency and between the University of Zambia (UNZA) and Telecom Bretagne (Mines-Nantes).
The fifth agreement will be between Paris 1 Panthon Sorbonne University and Zambia's Hotel and Tourism Training Institute.
Tomorrow President Lungu will again meet various groups of investors.
Mr Lungu will later be interviewed by France 24 and Radio France International.
He is expected to leave Paris for Lusaka today.
[Read 15 times, 1 reads today]