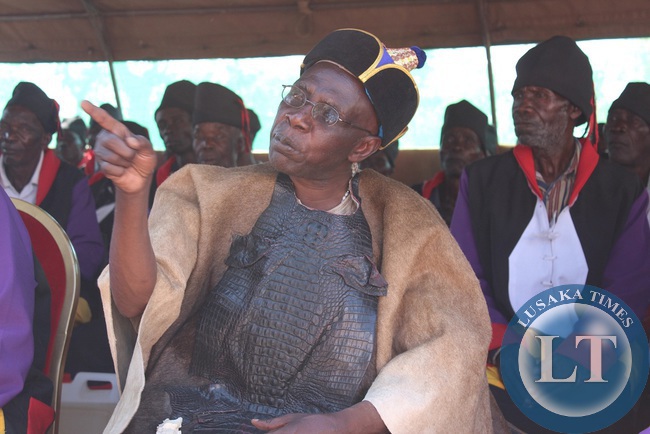 Paramount Chief Chitimukulu of the Bemba people in Northern Province has urged media personnel to be responsible in their reporting as the country heads to the August 11 polls.
Chief Chitimukulu says journalists should be factual in their writing and avoid fuelling hatred in the nation ahead of the elections.
He bemoaned the seemingly growing trend of misrepresenting facts among some media practitioners in the country.
The Mwinelubemba observed that if left unchecked, spreading of twisted information could lead to political strife.
He has since advised journalists to uphold professionalism in their work especially during campaigns for the forthcoming general elections.
Meanwhile, the traditional leader has appealed to political parties who intend to form alliances ahead of the elections to consult widely before making binding agreements.
In another development, Paramount Chief Chitimukulu has implored on people who have not yet registered as voters to take advantage of the voter registration at civic centres.
And the Paramount Chief has called for peaceful campaigns ahead of this year's tripartite elections.
The Chitimukulu made the remarks when PF aspiring candidate for Kasama Central Constituency Kelvin Sampa paid a courtesy call on him at his palace yesterday.
And Mr Sampa assured the Mwinelubemba that the ruling party will continue to preach peace ahead of the elections.
Meanwhile, Mr Sampa has praised the Catholic Church for its continued partnership with government in providing health care services.
Mr Sampa, who is also PF Kasama Central Aspiring candidate, said the church should be commended for its efforts in helping people especially in rural areas to access health services.
He said this when he presented a donation of bed linen and blankets worth K30, 000 to St. Fidelis Mission Hospital in Kasama's Chilubula area yesterday.
Mr. Sampa added that there is need for well-meaning citizens to supplement the provision of medical care as a way of helping the under-privileged.
He observed that the PF government has demonstrated leadership in improving health care delivery adding that the move should be emulated by other well-wishers.
And St. Fidelis Mission Hospital Sister in-charge Charity Chishimba thanked Mr Sampa for the donation.
Dr. Chishimba said the institution is faced with a number of challenges which require the help of other stakeholders in addressing them.
She however hailed government for the continuous support it renders to the institution.
[Read 17 times, 1 reads today]