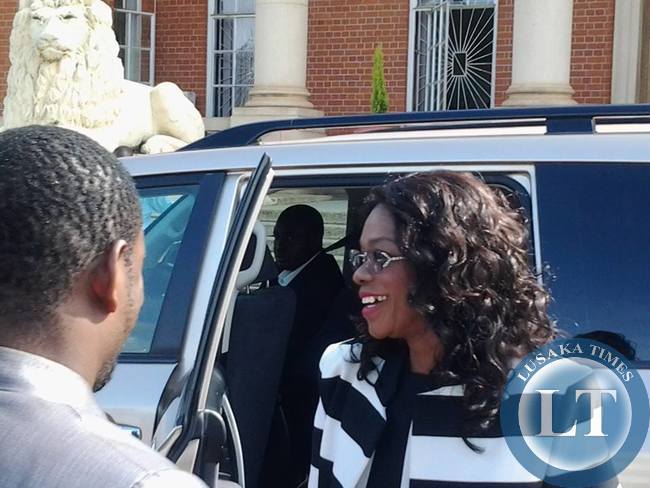 THE Lusaka Magistrates Court has thrown out an application by Chongwe Member of Parliament Sylvia Masebo to stay her court proceedings in the magistrates court pending her petition in the High Court in a matter she is alleged to have abused the authority of her office.
Lusaka Magistrate Ireen Wishimanga dismissed Ms Masebo's application after she established that there was no law that prohibited a criminal matter to run parallel with a civil matter.
This is in a matter in which Ms Masebo is alleged to have abused the authority of her office when she fired five Zambia Wild Life Authority senior officers without following laid down procedures.
Magistrate Wishimanga made the ruling after one of the defence lawyers Yosa Yosa made another application to stay the case pending the determination of a petition at the High Court where Masebo is challenging the Attorney General to subject her to criminal proceedings over issues already dwelt with by the tribunal.
Ms Wishimanga said she could not stay the proceedings of the case and refer the matter to the Constitutional Court, adding that Parliament has not yet given effect to the operations of the Constitutional Court as amended.
She added that Article 128 of the amended Constitution gives the Constitutional Court provisions of a matter to be determined by that court.
For the foregoing reasons, Magistrate Wishimanga said, the application to stay proceedings in the matter was dismissed as no constitutional issue was raised to refer the matter to the Constitutional Court.
She then allowed the witness on stand, former Tourism permanent secretary Charity Mwansa, to be cross-examined.
And in cross-examination, Ms Mwansa told the court that she stated in the Slyvia Masebo Tribunal proceedings that she was the one who wrote the termination letters for the former ZAWA officers because she was not asked to explain why.
She said she testified that according to the rules in a Government ministry, a letter could be drafted by any person but being the permanent secretary, she was asked to sign the letter making her the author.
She said that was the reason why she told the court that she was not the one who wrote the dismissal letters to the senior ZAWA officers and still maintained that it was Masebo who fired the officers.
Ms Mwansa said this after lawyer Makebi Zulu asked her to explain why she gave contradictory statements before the magistrates court and before the tribunal.
She said the decision by Masebo to fire the officers only came to her knowledge after Masebo made a public announcement.
The matter was adjourned to April 19 for a continuation of trial after Ms Mwansa concluded her testimony.