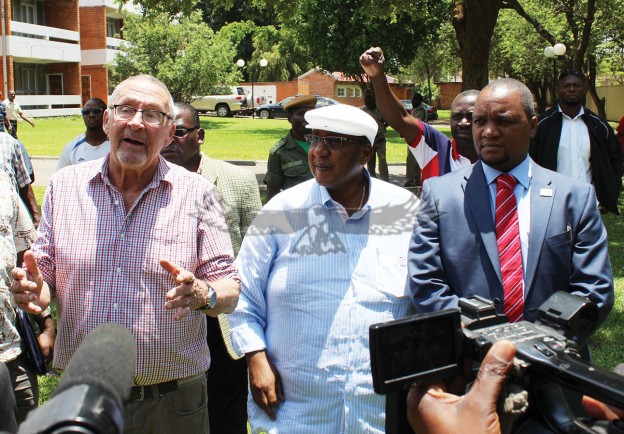 Democratic Front leader Miles Sampa has condemned the arrest of UPND Vice of President of administration Godfrey Bwalya Mwamba.
Mr Sampa said the charges slapped on Mr Mwamba are trumped up that are laced with political intimidation.
He said considering governments' claims to have nationwide popularity, they need not resort to attacking citizens with opposing ideas.
Mr Sampa who is also Orange Alliance President also observed that the Police service has been turned into a police force abusing the very citizens they are meant to protect.
"It is clear the PF government continues to rape our judicial system to silence opposition leaders and their members.
We note and salute the majority of noble men and women in the legal system that have refused and continue to resist sacrificing their integrity for political expedience. We submit strength and solidarity to GBM and the UPND.
And Former FODEP head, now calling himself as Electoral Expert yesterday released the statement below
PRESS STATEMENT
FOR IMMEDIATE RELEASE
02/03/2016
The summoning and detention of UPND Vice-President for administration, Geoffrey Bwalya Mwamba by the Zambia Police Service at Woodlands Police Station today barely a week after President Edgar Chagwa Lungu's disclosure that Hon. Mwamba and UPND President Hakainde Hichilema were training militia has exposed the unethical and politically inclined the Zambia Police Service are.
Not too long ago, the same Zambia Police Service went on rampage arresting people who even mentioned word militia in their discourse and among those affected were President Hichilema, Daily Nation Proprietor, and myself.
We were arrested over allegations that we caused to be published news likely to have caused public fear and alarm and yet the same police could not censure the PF leadership for raising the issue of militia in their discourse but quick to harass and arrest the opposition leaders and further surround and search private property.
Zambia Police Service must be reminded that one of their core functions in the Constitution of Zambia (Amendment) No. 2 of 2016 Article 193 (2) (e) is to uphold the Bill of Rights i.e. Upholding and protecting citizens' civil, political, social and cultural rights.
Police action on Hon. Mwamba is therefore, an act of violation of people's political rights which the Police should strive to protect.
In this vein, there is need for the police to account for their actions through the Constitutional Court by determining the constitutionality of their actions as far as the enjoyment of people's political rights is concerned in a democratic dispensation. In other words, police action against opposition leaders is a violation of individuals' political rights as enshrined in the Bill of rights.
Additionally, such actions are acts of self-decampaigning using the Zambia Police. Electorates' confidence in work of the police, the government, the ruling party and President Lungu is at its lowest in Zambia.
I call on the police to allow all political players to enjoy their political rights as enshrined in the Bill of Rights without hindrance.
McDonald Chipenzi
ELECTORAL EXPERT
[Read 15 times, 1 reads today]