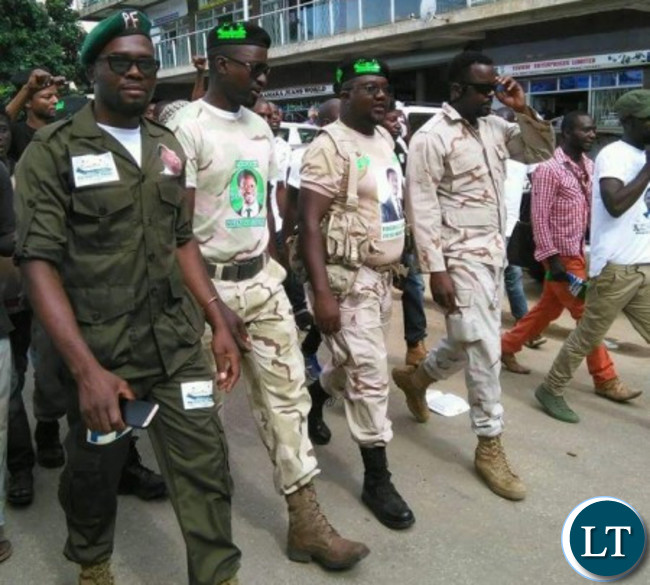 Patriotic Front youths in Lusaka have welcomed the directive by the party leadership to ban the wearing of military like regalia.
PF Lusaka province Information and Publicity Secretary Stanley Chiumya says the ban is timely especially now that the Country is headed for a general election.
Mr. Chiumya says PF youths are also aware that during this period the international community is closely following happenings in Zambia which include political activities.
He says PF youths should therefore heed the directive the party leadership has given without fail.
Meanwhile, UPND National Youth Chairperson and Senanga Member of Parliament Likando Mufalali has appealed to Zambians, especially the youth to join in efforts aimed bringing conclusion to the many conflicts plaguing the country.
Mr. Mufalali says the youth should accept to work together in good faith to build bridges to promote enduring peace.
He says the situation where the country tends to be associated with violence is totally unacceptable and blots on the image of the country.
And Operation Young Vote (OYV) says it plans to launch a program dubbed 'Violence Must Fall' aimed at curbing political violence before the commencement of official campaigns.
OYV Executive Director Guess Nyirenda says the program will be implemented in all parts of the country.
Mr. Nyirenda says in order for people to freely take part in political activities and the electoral process, there is need to first of all curb the escalating political violence in the country.
He says his organization will engage all stakeholders in the electoral and political systems to ensure they too play a role in ending violence.
Mr. Nyirenda has since appealed to all stakeholders to support initiatives aimed at ending all negative vices that may hinder the holding of the free and fair elections.
[Read 22 times, 1 reads today]