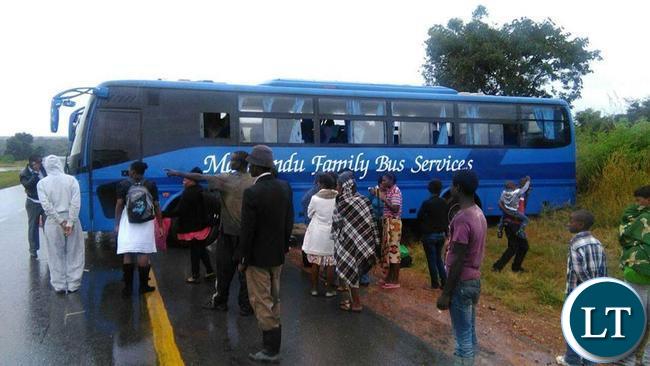 Of late, the nation has witnessed a wave of grisly road carnage involving mainly passenger service vehicles. This has resulted in shattering numbers of fatalities and serious injuries. If this were in civilized societies, it would have long been declared a national disaster! A few days ago, a Mazhandu Family Bus en-route to Lusaka lost control and flipped-off the road just after Kapiri Mposhi. Six 6 people died on the spot among them a young lady that had just had her bridal shower party a week earlier and was due to tie the knot in the coming days.
A couple of days later, a Wada Chovu Coach collided with a minibus in Mayumbi near the toll gate – 24 people lost their lives! The following Saturday morning, another coach coming from Kitwe had a mishap along the Ndola/Kitwe dual carriageway. Since we don't capacity to respond to emergencies rapidly, the bus blocked one part of the road for several hours resulting in massive traffic jam. Praise God; there were no serious injuries! And before the dust could even settle down, a fourth bus rammed into a light truck somewhere in Central province; thankfully, folks emerged unscathed.
But what is the cause of all these traffic accidents?
To any ordinary person in the Townships, Satanism has a big hand in this. "This is their month of sacrifice," they would say. Sadly, this hogwash hasn't spared social media where you expect the majority of people to be above such petty and backward thinking! According to them, some prominent people involved in Satanism are causing all these accidents in order to collect enough blood to use in ritual purposes so that they can become stinking rich or swiftly grow their wealth.
Surely, can spilling blood make anyone rich? How come no one has ever been caught collecting this blood? Why is it that it's only in this country where we tend to associate success or accidents with Satanism? Are we a capital of Satanism? Since some people believe these gods duel in the Middle East, I thought enough blood is already being spilled there through endless wars. Anyway, the purpose of this article isn't to demystify the superstitions around traffic accidents as held by many people but rather ponder over the probable causes of the same.
After taking time to observe and talking to several stakeholders about the possible causes of accidents in our beloved country, I arrived at the following reasons: fatigue on the part of drivers, failure to regularly service or maintain buses by the owners and lastly, congestion on our roads.
Fatigue
Recently, I had an opportunity to have a chat with one of the long-distance bus drivers plying his trade on the Kitwe/Lusaka route. He would set-off from the mining town around 5.00 AM and arrive in the nation's capital 6 hours later. He would then commence the long drive back home after a 2 hour hiatus. Imagine the toll this would take on someone driving on such a route back and forth every other day? They'd be totally worn-out and wasted by the end of the month! Considering the precarious state of our roads, the job of a driver can be quite taxing and stressful. If a driver is to make it to the next destination, he is expected to totally concentrate on the road. Some of the accidents occurring on our roads today are as a result of careless mistakes arising from fatigue.
Recommendations
Drivers must be encouraged to form a union that will safeguard their interests and indeed that of the traveling public. There is need to thrush-out on how many hours drivers must work per day and the days-off they must be entitled to in a month. Mandatory medical check-ups must also be a must to ensure that any person who is entrusted with the noble duty of transporting fellow human beings must be as fit as a fiddle.
Lack of maintenance
Apparently, there's always an officer from RTSA stationed at inter-city bus terminals checking on buses leaving the station every now and then. I wonder whether these officers are doing their jobs properly or to what extent they are indeed checking the roadworthiness of buses. On my way to Lusaka the other day, I momentarily trailed a Marcopolo Bus. It exhausted excessive plumes of black smoke and continuously tilted on one side as if it would collapse anytime. There was something definitely wrong with the suspension system! The bus struggled to negotiate its way uphill as the engine spluttered and coughed, endlessly. The tires had no visible treads at all – they were a complete example of insoka! I couldn't help but wonder how on earth such a bus was allowed to pass through any of the roadblocks littered all over our roads in the first place.
Recommendations
Other than stationing officers at intercity like roots to check on vehicles leaving the station, RTSA must come up with an ingenuous programme to prevent further occurrence of accidents in future. If anything, public service vehicles must be recalled and subjected to thorough examination, pronto! This must entail checking every vehicle system e.g. brakes, steering, suspension and lighting etc. And once a vehicle meets the litmus test, a special fitness disc must be placed on the same. From time to time, RTSA must conduct random road patrols countrywide and look out for the same. Any vehicle failing to display the same must be impounded immediately and permanently banned from our roads! Zambia Police mustn't be involved in this exercise because there is a huge possibility that they may interpret this as an opportunity to mint gold! Most of the times, the money that traffic police collect from erring motorists doesn't even go to state coffers but ends up in the pockets of a few corrupt individuals.
Roadblocks/Congestion
It's almost impossible to contend with the irritating congestion on our roads. On my way from Lusaka, I was shocked to see numerous road blocks between the short stretch Kabwe and Kapiri Mposhi! The police made motorists open their trunks as they checked for road triangles and spare wheels resulting in unnecessary congestion. One would see that once motorists were cleared by the police, they resorted to driving at breakneck speed to make up for the lost time.
Recommendation
Government must come up with a coherent policy on roadblocks; these must be restricted to a few permanent checkpoints in and out of the cities. A combined team of officers from ACC, RTSA and Zambia Police must be mandated to man these check points to curb corruption. As a matter of urgency, government must consider upgrading the road from Solwezi to Livingstone into a dual carriageway. This will go a long way in decongesting our roads. Speed limiters must also be fixed on the buses to force the drivers drive at a specified speed.
By Bill M. Kapinga