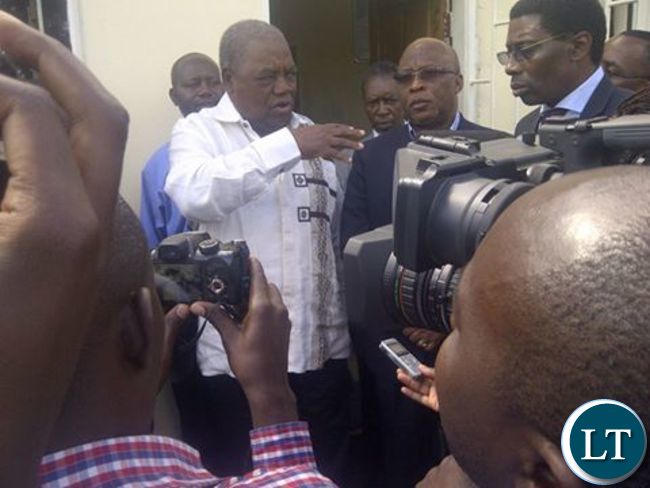 Former Republican President Rupiah Banda says the former ruling party was formed to exist and has called on members to ensure that the party continues to exist.
Speaking after meeting MMD President Nevers Mumba to iron out their differences, Mr Banda said there are some cowards who are running away from the former ruling party due to the challenges that have continued to rock the party since losing elections but that it was in the nation's best interest to ensure the continuous existence of the party.
He said no one should allow the democracy that the forefathers fought for to be eroded by the differences in opinion because MMD was a democratic party and divergent views should be allowed.
Mr Banda also denied allegations that he was causing the confusion in the party saying he was too old to be fighting with his son.
Asked if their thorny issue of the party convention was discussed, Mr Banda said the two camps were still talking and that they will resolve the matters of the two camps in due course.
And the former Republican President has called on the press in the country to help heal the nation from the wounds of political violence that continue to rock the country.
He said that it is in every groups interest to speak against political violence because when war erupts it will affects every one regardless of their political inclination and that people will start meeting each other in different countries as refugees.
Meanwhile Dr Mumba said the MMD stands ready to make a positive contribution to the governance of the country.
He said the party will ensure that a deliberate path is created to ensure that all aggrieved members who wish to return and make a contribution through the MMD and its leadership are amicably brought on board.
The reconciliation talks had collapsed a few weeks ago after Dr Mumba refused to meet the other group when he was invited to try and chant the way forward for the party.
Evangelical Fellowship of Zambia (EFZ) chairman Bishop Pukuta Mwanza , Northmead Assemblies of God overseer Bishop Joshua Banda and a new addition in the person of Reverend Father Chilinda of the Roman Catholic Church chaired the meeting.