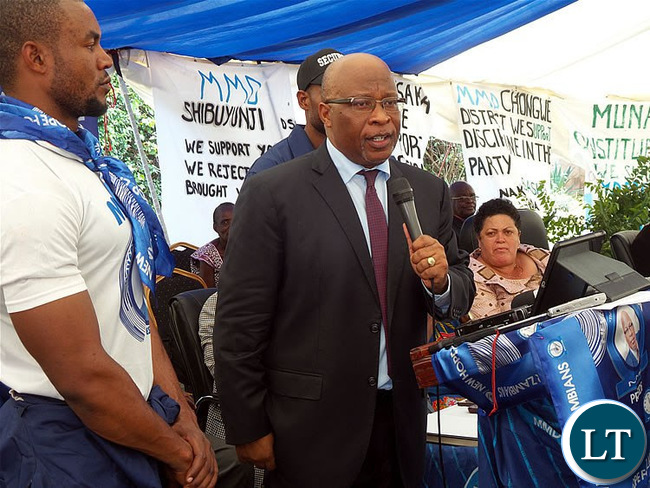 Press Briefing By MMD President Dr Nevers Sekwila Mumba On 13th April, 2016 At MMD Secretariat
NEC Members present, Members of the MMD Present, Members of the Media Fraternity.
On 8th March, 2016 I held a press conference right here to announce the commencement of receiving applications for men, women and youth wishing to be adopted to stand on the MMD ticket for the forthcoming Parliamentary and Local Government elections and the response has been heart-warming.
From the outset, I wish to strongly assure all prospective candidates that the MMD is a serious and determined contender in this year's elections and in the next few days, the MMD National Executive Committee (NEC) will be meeting to consider all the applications and commence the adoption process.
Those that have followed all my press briefings, including the last one on 8th March and my various interactions with the media, can attest to the fact that I have always extended an olive branch to all those aggrieved members to come back to the fold. In the past several months alone, I have made four impassioned invitations for our colleagues to return to the fold. Many have already responded to this call and have been welcomed back and verifiable records are available at the Party Secretariat to confirm this.
We have been criticised for exhibiting what our critics say is a show of a weak and naive leadership in conducting our affairs in this manner. But I have a different view. Leadership comes with a great burden of responsibility and if not exercised in wisdom and and Godly fear has the potential to destroy lives and even nations. Examples of this abound in our time.
Some will recall that, in our continued efforts to see a united MMD after the 2015 elections, the MMD NEC extended an olive branch to all those members who had been expelled for crossing the floor and campaigning for candidates from other political parties. Many returned, were forgiven and welcomed back to the party.
Regrettably, some of these have flocked back to the party they campaigned for in 2015. We are however unperturbed and remain focused in realizing the dream of Modern Politics, under-girded by Morality and Integrity in our country.
This level of tolerance only happens in the MMD because of our strong constitutional and democratic foundation. In the midst of all this supposed tolerance, many have realized that there are no sacred cows in the MMD and I am determined to show that no one shall be above the rules and regulations of our party. I have demonstrated fearlessness against the so-called powerful and have ensured discipline is meted out to the powerful and also to the weak in equal measure.
In my life's vocation of preaching the gospel of our Lord Jesus Christ, I have preached first, reconciliation of man to God his creator and secondly reconciliation of men and women to one another. As a Christian and as leader of the MMD, I have desired to bring a new leadership dispensation to the party based on my message of reconciliation and forgiveness.
I am aware that many of our colleagues have struggled with accepting me as leader of this party maybe because I am a completely different kind of leader than what they have been used to. This is the challenging side of democracy, where you are expected to support a leader you do not particularly like but you serve him in respect of your party or people who elected him.
As we approach the August election, we need to pull on all our human resource from across the country to come back on board and face the coming election as one, indivisible family.
I am aware that several people who have been facing disciplinary action in our party at various levels have been asking for clemency to be allowed to participate in the forth coming election. The olive branch remains extended to all those who have offended the party in the past and currently under disciplinary action.
In order to accommodate those who are remorseful and yet passionate about their party, we have extended the olive branch for the next two weeks. The door remains wide open to those willing to come and sign a peace covenant making a declaration of commitment to the party, its values and its leadership. The next two weeks therefore shall be dubbed as a season of forgiveness and reconciliation for those who would like to build and prepare the party for the August elections. This is time to put away our hatchets and start a new day as a family.
I also wish to confirm that the NEC is the highest organ of the party and the only organ mandated by the constitution to decide the date of any special gatherings of the party including the convention. The current NEC remains firmly in control of the party and will only be dissolved when a new NEC is installed at a time and place decided by the current NEC in line with our constitutional provisions.
My message to all our colleagues, as always, is that let us all come together, as one big family and move our party forward.
I now request that all those wishing to genuinely accept this olive branch, to come out in the open and feel free to call on the MMD local leadership structures in their locality or the MMD Secretariat here in Lusaka where officials have all been directed to facilitate the formalization and renewal of their membership to the party. All these issues are made in the spirit of reconciliation and good faith that the returning colleagues will also act in good faith.
I therefore now take this opportunity to encourage all our members in all provinces, to begin working hard to re-claim our responsibility as the nation's torch-bearer of democracy, peace, development and progress in Zambian politics.
I thank each one of you for your kind attention.
Dr Nevers Sekwila Mumba
MMD PRESIDENT
[Read 33 times, 1 reads today]