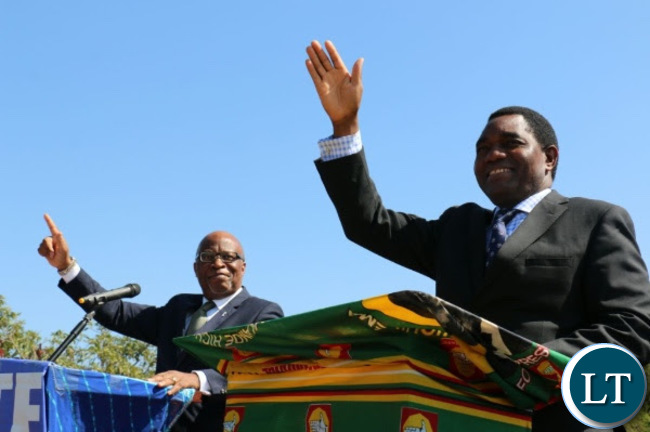 MMD Youth Chairman Dauzen Tembo has strongly warned Nevers Mumba and his people to desist from forcing them to react.
Mr Tembo said they have noted the statement circulating on social media and would like to tell him and his group that he should stop daring the party.
He said his party respects former leaders but that they will not hesitate to renounce their respect for him if he continues daring them.
"The MMD Youths would like to strongly warn once and for all that such tricks from whoever is sanctioning them to desist from forcing us to react.
"Of course we have received word of the statement circulating on social media and we would like to say that it has nothing to do with the MMD. If he dares us to deal with him, we shall use the law and because we fear for him we know he has no money to pay the lawyers, we beg him to leave us alone.
"Our culture in MMD is to give respect to all our former leaders, but if this is the path he has chosen we will end up disrespecting him," he said.
He also called on the people issuing statements not to be mislead as there is only one MMD adding that Dr Mumba does not even have a secretariat.
"He must not mislead himself because if he is aggrieved over the convention he must be a man and confront us as opposed to what he is doing speaking through nonentities like his cleaners and house girls.
"We warn even these same house girls that they must not be used by Nevers Mumba because they will be left in the cold. They should not be misled that there are two MMDs because there is only one MMD which is under the leadership of Felix Mutati and the newly elected NEC. We call on those being used to come and rejoin their party unconditionally as there is enough room.
"We know everything that our former President has been doing with these women, if he continues to dare us we will be left with no choice but to expose him. Even the President, Mr Mutati has spoken louder and as a youth chairman I feel we have had enough," he said.
Mr Tembo was reacting to a statement attributed to Irene Musonda who dared Mr Mutati to go ahead and deal with former MMD President Nevers Mumba who has continued to resist handing over the presidency after Mr Mutati went an opposed at the convention.
Meanwhile, MMD Deputy Secretary General Howard Kunda says the electoral alliance between his party and the Patriotic Front has started paying dividends.
Mr. Kunda, who is MMD Munchinga Parliamentary candidate, has since commended President Edgar Lungu and the PF for supporting his candidature.
He told ZNBC News in Lusaka that the MMD and PF have shared slots for councilors in Muchinga constituency under the electoral pact.
Mr. Kunda said the MMD will work hard to ensure President Lungu retains the presidency.
He said it is important that President Lungu is retains the seat for him to complete various development projects being rolled across the country.
Mr. Kunda said President Lungu also deserves to be re-elected based on his outstanding performance.
[Read 13 times, 1 reads today]