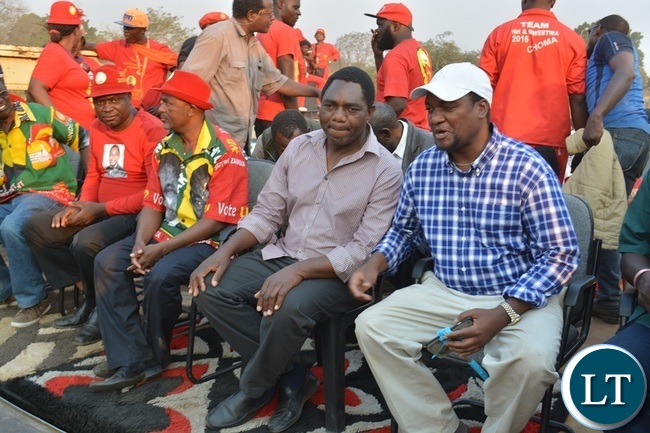 By Eurasia Group, the world's largest political risk consultancy.
This election poses a bigger test for President Edgar Lungu than the by-election in January 2015 when he ran simply on former President Michael Sata's legacy. He has lost many of his most charismatic supporters to Hichilema including Miles Sampa and Mulenga Sata, undermining his campaign that has increasingly relied on entertainers and payments to draw crowds.
Low turnout (32% nationwide) in the 2015 presidential election and the high number of newly registered voters this year present wildcards in the race.
Stronger turnout in Lungu strongholds like Muchinga and Luapula would undermine Hichilema's chances. Roughly 1.7 million Zambians registered ahead of this election.
Lusaka, Southern and Copperbelt were the top three provinces in terms of new registrations — all three of these provinces will likely trend in Hichilema's favor, helping him secure a first round victory.
The negative economic climate has been felt most strongly in the two largest provinces that brought the Patriotic Front to its first victory in 2011, Copperbelt and Lusaka. These two provinces will likely swing from supporting the ruling party to backing Hichilema's UPND.
Other areas where Hichilema is likely to gain ground from a low base is in Northern, the home province of his vice presidential candidate, Geoffrey Mwamba. Even stronger backing from Hichilema's home province of Southern (90% of voters backed him in 2015 with 49% turnout) will further support the opposition leader. Eastern, Muchinga, Luapula and Northern will likely remain firmly in the Patriotic Front's camp and turnout will be critical to the overall outcome.
Government interference presents another wildcard. Interim president Guy Scott limited the ability of the government to use instruments of power in 2015. Lungu has clearly sought to use his incumbency advantage; blocking some opposition rallies and closing the opposition-supporting Post newspaper.
Despite this interference, opposition rallies have been well attended, especially in Copperbelt over the weekend and the Post continues to operate though at a more limited scale. In addition, Zambians voted out the incumbent in recent history. In 2011, despite similar practices, Rupiah Banda lost to Michael Sata.
Critically, the vote counting process under the Zambian Electoral Commission (ECZ), which lacks full independence, will be the key determinant of the contest.
Sporadic violence from both parties, despite the ECZ's 10-day suspension of political campaigns in Lusaka and Namwala districts in July, will likely intensify over the last few days of the campaign and as votes are counted, but is unlikely to threaten national stability.
Zambia has a history of localized election violence, including significant riots in Lusaka in 2006 during the vote counting process when the opposition candidate at the time, Michael Sata's lead evaporated and Levy Mwanawasa was announced the winner.
The election could extend into September if results are disputed or no candidate reaches a majority
The ZEC took four days to tally results in January 2015; once announced on 24 January Lungu was sworn in the following day.
New constitutional amendments will alter the timeline in this election, however. Vote counting will likely extend until Sunday, 14 August and in the event an outright winner is announced without a court challenge, the swearing in ceremony would take place the first Tuesday seven days following the announcement of the result.
Should the new 50%+1 threshold not be met, a second round would be required within 37 days of 11 August. If results are indeed challenged, a petition must be filed before the newly introduced Constitutional Court within seven days of a winner being declared, and the petition must be heard by the court within 14 days with a decision issued within 30 days.
In this context a winner would not necessarily be confirmed until the end of September, creating a long period of political uncertainty. The constitutional court is a new entity in Zambia, previous court challenges have not blocked the swearing in of a new president. How a challenge would be treated in terms of the swearing in of a new administration is unclear. It could go ahead in parallel with a challenge, likely sparking protest.
One undoubtedly positive result of the recent constitutional amendments is the inclusion of an elected vice presidential role. In the event that a president not be able to complete a full term, the vice president will now take over and complete the remainder of the term. This will eliminate what had become a common practice of snap presidential elections; held both in 2008 and in 2015 after the death of Levy Mwanawasa (August 2008) and Michael Sata (October 2014).
IMF deal likely, but not until December at the earliest
An IMF program is likely to follow a Hichilema victory, but only after the budget is presented in October. The IMF will insist that progress is made on reducing subsidies, especially on fuel and power tariffs though the later in installments after the deep political backlash to the 200%+ increase that Lungu introduced and swiftly reversed in January.
The program would likely run over three years with roughly $1 billion in financing over six disbursements. Under a less likely Lungu administration, a program would still be probable, but future disbursements would be in greater jeopardy as Lungu's economic team would likely push back on some of the deeper structural reforms. If elections are perceived to have been fraudulent, the US may drag its heels on a deal over governance concerns, pushing the conclusion of a program well into 2017.
[Read 12 times, 1 reads today]