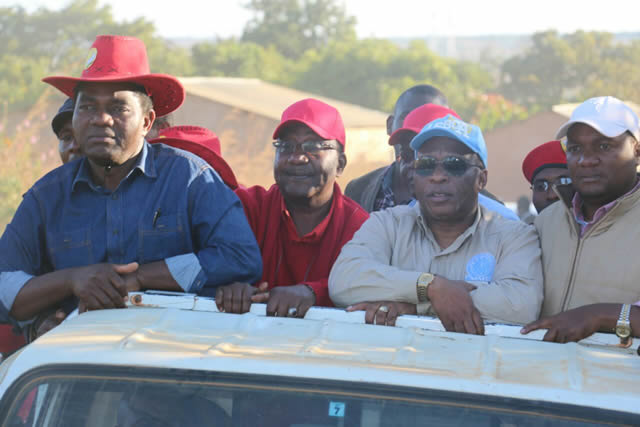 By Hon. Bowman C. Lusambo, MP-Kabushi
The recent desperate attempts by UPND's senior officials to create an environment that makes the country appear ungovernable cannot pass without a comment.
Both Mr Hakainde Hichilema, Mr Geoffrey Mwamba and Dr Nevers Mumba should be made aware that Zambians can clearly see through their evil schemes and that they will not succeed.
It should be stated here that their plans will not succeed because these three people are a combination of political failures with long track records of grand failures.
The statement by Dr Mumba that the UPND shall not recognise President Edgar Lungu as a sitting Head of State is both irresponsible and cheap especially coming from a man who once served as Republican Vice President.
As much as Dr Mumba finds it difficult to appreciate the fact that Zambians again voted for President Lungu, we find such utterances completely reckless and plain unacceptable.
Further scrutiny of Dr Mumba's statement reveals that such utterances are part of a grand scheme to make the country ungovernable. By stating that Zambia does not have a President, Dr Mumba is inciting law abiding citizens to rise up against an elected government using illegal means.
What we also know is that the path that Dr Mumba and his friends in the UPND have taken or appear to be advocating for borders heavily on treason. The truth is that Dr Mumba and everyone in the UPND is fully aware of the constitutional provisions that allows for a sitting Head of State to hand over powers to himself or herself.
So let us make it easier for the UPND leadership to understand, the nation currently has no leadership vacuum at the very top. We have a sitting Head of State who was re-elected and he is holding executive powers. President Lungu therefore deserves to be accorded the necessary respect and decorum that goes with the office he occupies.
Dr Mumba, HH and GBM have had extraordinary opportunities to serve the Zambian people and records are there to show that they abused these privileges and only catered for their own needs.
Dr Mumba was appointed Vice President and there is nothing to show for the time he served as Levy Mwanawasa number two. He was unceremoniously fired because he abused his position to serve his own selfish and inflated ego.
GBM was appointed Defence Minister in the Sata administration and the only thing he achieved during his reign was to award himself all the major contracts under the Ministry of Defence. By that act alone, GBM took away livelihoods of many Zambians who would ordinarily participate in the procurement processes at the Ministry. The only thing GBM achieved was to feed his big belly.
For Mr Hichilema, the man became a billionaire overnight after the state entrusted him with offloading some of its assets. If he was not undervaluing the assets, he was busy creating dubious companies through which he bought shares in the same companies he was asked to offload.
He ended up sitting on the Board of a chain of Hotels and later became the Chairman of the same Board of the company he was tasked to assess in preparation for privatisation.
The records of these UPND officials clearly shows they cannot be entrusted with public affairs. They are political failures who have no moral authority to question President Lungu's record in government.
GBM failed Zambians and the people of Kasama Central. Dr Mumba failed the Zambian people with his poor decision making and Mr Hichilema deprived Zambians of assets that belonged to them all. Through that process, he singlehandedly sent hundreds of Zambians into destitution and many of them died due to depression arising from joblessness.
All things considered, the three failed politicians should stop making threats against the choice of Zambians who re-elected President Lungu into office. They are failed politicians who should seriously consider retiring from politics as their record so far does not inspire any confidence.