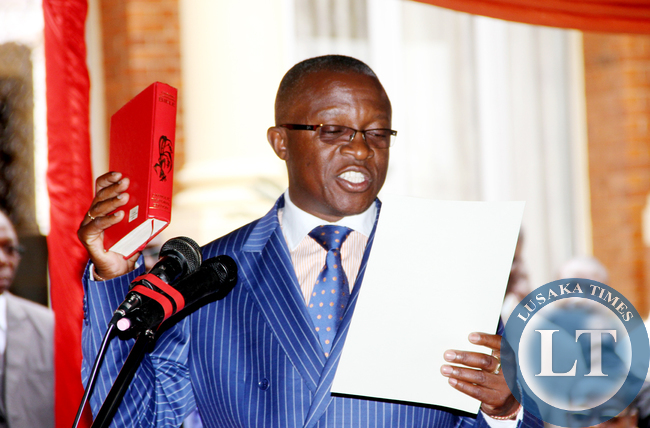 President-Elect Edgar Lungu has with immediate effect terminated the contract of Emmanuel Chilubanama as Permanent Secretary for State House.
According the statement released to the media by State house, President Lungu in his letter addressed to Mr Chilubanama dated 29th August, 2016 informed the Permanent Secretary that his services had been terminated with immediate effect.
The letter which has been signed by the Head of State has also been copied to Secretary to the Cabinet, Secretary to the Treasury and Auditor-General.
''I am writing to inform you that l have terminated your services as Permanent Secretary with immediate effect. I wish you the best in your future endeavours,'' President Lungu said.
Meanwhile, Congratulatory messages have continued to pour into State House following the re election of Edgar Lungu as sixth President of the Republic of Zambia in the August 11 general election.
His Excellency Mr Robert Mugabe, President of the Republic of Zimbabwe has joined other leaders in congratulating President Lungu.
In his congratulatory message dated 19th August, President Mugabe expressed hearty congratulations to President Lungu and commended the Zambian people for making their democratic choice in a peaceful manner.
The Zimbabwean President stated that the mandate that the people of Zambia have given to President Lungu reconfirms the high level of trust and confidence they have in his leadership.
''I wish you, Your Excellency and Dear Brother, personal good health and success as you discharge the onerous duties of your high office,'' President Mugabe said.
And President of the Federal Republic of Somalia His Excellency Mr Hassan Sheikh Mohamud has also extended his congratulations to President Lungu and expressed best wishes for Zambia's continued stability, progress and prosperity.
''The Government of Federal Republic of Somalia congratulates the Government , people and further expresses the best wishes for stability, progress and prosperity to the whole nation of Zambia,'' President Mohamud said.
[Read 56 times, 1 reads today]