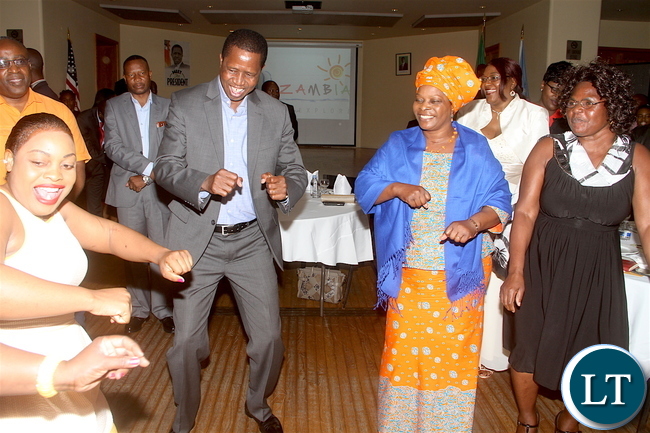 German President Joachim Gauck has congratulated President Edgar Lungu on his re-election as head of state for Zambia.
President Gauck has since assured Mr. Lungu that German will continue to stand by Zambia as a reliable partner.
And Korean President Park Geun-hye said she is confident that President Lungu's experience and leadership will spur Zambia's political stability and economic development.
President Geun-hye hoped that the friendly and cooperative ties that exist between Zambia and Korea will grow even further during Mr. Lungu's tenure of office.
This is contained in a statement issued to ZANIS by Special Assistant to the President for Press and Public Relations Amos Chanda today.
Meanwhile, King Filipe VI of the Kingdom of Spain wished President Lungu success in his new tenure and the Zambian people peace and prosperity.
And the Southern African Development Community (SADC) Executive Secretary Stergomena Tax commended President Lungu and the Zambian government for the peaceful, well managed and successful elections.
Dr. Stergomena also applauded the President for his political tolerance and maturity displayed during the elections.
She stated that the Zambian people expressed their will which will significantly contribute to consolidating democracy and political stability not only in Zambia but also in the SADC region.
She described the high level of professionalism exhibited by the Electoral Commission of Zambia (ECZ) as a clear demonstration of democracy, maturity and Zambia's capacity in the electoral management.
Dr. Stergomena said SADC was highly confident that the spirit of cooperation, political tolerance and the response behaviour demonstrated by political stakeholders and the Zambian people will contribute to national unity and development.
And Speaker of the East African Legislative Assembly (EALA) Daniel Kidega wished Mr. Lungu God's speed as he executes his mandate to realize meaningful development for the Zambian people and the SADC region.
Mr. Kidega assured Zambia of the assembly's support towards building and strengthening the integration processes in the African continent.
And Smart Partnership Movement Chief Executive Mihaela Smith said the movement looks forward to President Lungu's support and cooperation in promoting Commonwealth activities and the work of the Smart Partnership Movement through his leadership.
[Read 3 times, 1 reads today]