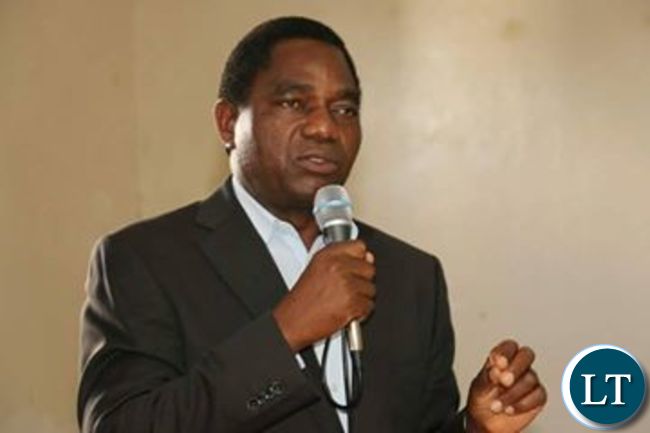 United Party for National Development (UPND) President Hakainde Hichilema has disclosed that the ruling Patriotic Front is plotting to send cadres to attack President Edgar Lungu with a view to implicate him as being responsible for the attack.
Addressing journalists during a press briefing at his residence yesterday, Mr. Hichilema said that he was aware of the ploy by the ruling PF to send their own cadres to attack President Lungu in public and when arrested they will say they were sent by Mr. Hichilema.
The UPND Leader also described Vice President Inonge Wina's statement in parliament that the opposition is wishing President Lungu death as irresponsible.
Mr Hichilema said that the vice president's remarks in parliament on Friday when responding to Mazabuka Central Member of Parliament Garry Nkombo, were misplaced and irresponsible.
Mr Hichilema said that UPND has no capacity to kill president Lungu and therefore the vice president's remarks were unacceptable.
Mr Hichilema said that Ms Wina's statement had no truth in it and that it was a scheme of the patriotic front to eliminate president Lungu and blame it on the opposition.
On Friday, Vice President Inonge Wina told parliament that there are political parties that are praying for the death of President Edgar Lungu. Responding to questions during the Vice President's Question Time.
"I know the people who are making comments on social media whishing that he is not well, wishing that he is ill. I hope this stops, because we need to reconcile. If the honourable member thinks the responses we give are not palatable to their ears we wish them well," she said.
"It is the same leader who wishing President Lungu dead."
Meanwhile, UPND has dismissed concerns its preoccupation to having its August presidential election petition heard is eroding its significance to Zambia's democracy.
UPND Vice President for Administration Geoffrey Mwamba said that it is also not true that owing to this preoccupation his party is not in a position to render credible checks and balances to government.
In an interview with Qfm News Mr. Mwamba stated that contrary to the raised concerns his party is pursuing the matter of its petition not only for itself but also for the Zambian people.
Mr. Mwamba said that the UPND is aware that the over 3 million people that voted for UPND in the August general elections would like to see this matter dealt with to its logical conclusion.
Mr. Mwamba said that this meant that his party will stop at nothing in seeing to it that this happens and Zambians accorded the opportunity to know what transpired.
Mr. Mwamba said that his party remains hopeful that its petition will be heard one day.