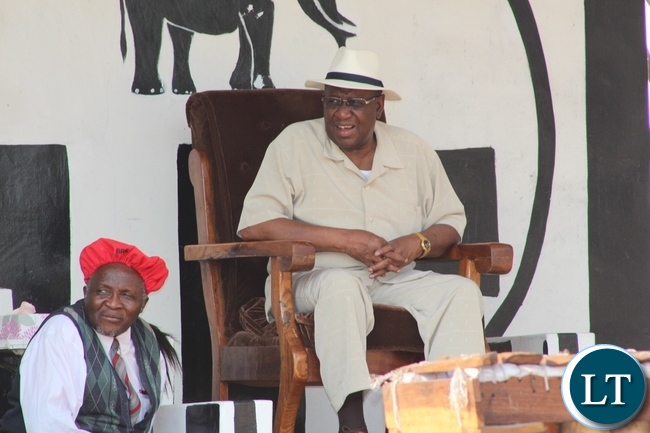 The Litunga of Western Province Edwin Lubosi Imwiko the second has been sued by his subjects. According to the originating notice of motion by the subjects issued through the Mongu High Court today, the traditional leader has been asked to relinquish his position as the reigning Litunga of Western Province lawfully in accordance to the law.
The traditional ruler has been sued for alleged gross incompetence and abuse of authority.
Speaking to Journalists soon after suing the Litunga at the High Court premises in Mongu, Induna Charles Mutemwa said 92 percent of the Barotse Royal Establishment (BRE) structures that includes Sub-Chiefs have disproved the Litunga's leadership and have since called for his immediate resignation.
Induna Mutemwa challenges that among other things, the traditional leader has, since the Litunga's inception into power on the 13th of October 2000, always been prioritizing his personal interests and pays little attention to the governance system of his Litungaship within which the Barotse Royal Establishment was anchored.
The current Litunga goes around many times doing his personal business at the expense of governing and caring the core-value of the Barotse governance system.
And Induna Nabiwa Imikendu who is also among the senior most Indunas in the BRE structure disclosed that advising the Litunga has proved futile saying doing so has been met with fierce resistance from the traditional leader.
He has described the Litunga Edwin Lubosi Imwiko the second as a stumbling block to the development of Western Province adding that since his enthronement he collects market revenues docking fees and sitting on traditional land without making any improvements to such strategic facilities.
Induna Nabiwa reiterated that failure by the King to observe the Lozi traditional, norms, decency and discipline has compromised the file of hierarchies of his subjects within the Barotseland structure.
The Indunas accused that the Litunga is highly hoarding the the traditional land ads well adding that it is only given to affluent land developers to put up structures even in in proximity of cemetery for money.
The notice of motion for the Litunga Lubosi Imwiko the second to resign has been filed in at the Mongu High Court by four Indunas namely; Nabiwa Imikendu, Litia Charles Mutemwa, Mukubesa Ilukena and Mumbisho Liswanio.
[Read 13 times, 1 reads today]