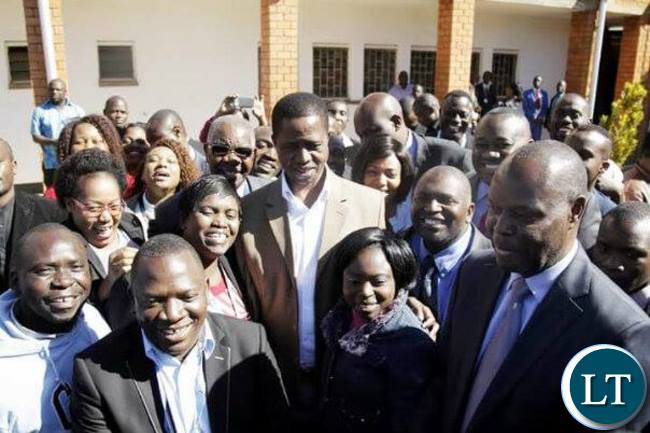 Several Journalists perceived to be aligned to the PF government have been appointed to serve as diplomats in various foreign embassies.
Ministry of Foreign Affairs sources have confirmed that state broadcaster ZNBC and the Zambia Daily Mail have contributed the most number of appointees.
Others are from the Daily Nation, a paper run by former State House aide Richard Sakala which is seen by many as pro PF.
The letters of appointments were handed over to the Journalists two weeks ago and some are earmarked to take up their new positions as Press Attaché's by end of April.
ZNBC News Manager Cosmas Chileshe has been appointed as the new Press Secretary at the Zambian Mission to the United Nations in New York while Wallen Simwaka of the Daily Nation will take up the same role at the Zambian Mission to the USA in Washington D.C.
ZNBC's Bangwe Naviley who ran a string of PF propaganda news broadcasts in the run up to the August 2016 polls has been sent to India.
Inutu Mwanza who has been covering First Lady Esther Lungu's local and international trips has taken up the position of Press Secretary at the Zambian mission in Addis Ababa, Ethiopia.
Others are Yotamu Mugara who is Japan bound while Freelance Journalist Kellys Kaunda will go to Berlin, Germany.
Kasabo Seth Kalussa who was a Freelance Journalist with Mwebantu New Media has been sent to Botswana as Press Attaché.
Others are Daily Mail News Editor Jerry Munthali and several others at the Times of Zambia in Ndola and Lusaka.
The sources said State House Spokesman Amos Chanda is the one who has been personally handing out the letters to the Reporters.
The appointed Journalists have since undergone security clearance while others have even resigned their media jobs.
The majority of those Journalists who were appointed by late President Michael Sata in 2012 are being recalled and are heading back home.
[Read 63 times, 1 reads today]