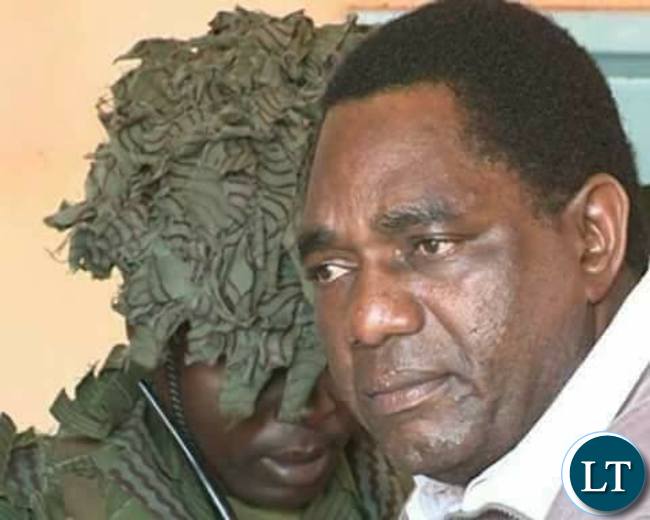 By Moses Chilando
In his latest Facebook Message, incarcerated United Party for National Development (UPND) leader Hakainde Hichilema claims that he and his co-accused are in prison not because they have committed any crime but that they are believers in democracy and believe in the Zambian people.
We refuse to accept Hichilema and UPND believe in the Zambian people because had that been the case, they would have respected the will Zambians demonstrated on 11th August 2016 when they rejected him and accepted to renew Patriotic Front and His Excellency President Edgar Lungu's mandate. Hichilema's defiant stance that he does not recognise President Lungu is an assault on democracy and an insult on the Zambian voters. It is hypocrisy to profess democracy in one breathe and pour scorn on it in the other. If UPND and Hichilema believed in democracy, where the voice of the people is the voice of God (Vox Populi, Vox Dei), they would have moved on and focused on providing checks and balances to an elected Government of the People, for the People and by the People.
We want to put it to Hichilema and UPND that "In a democracy, lawlessness is the eternal foe of liberty." It is folly for anyone to injure society and expect to go scot free!
We have no doubt that Hichilema has not had time to look at the highly provocative and life threatening Mongu video footage. It is indeed a fallacy for Hichilema to assert that him and his co-accused are behind bars because they are democrats who believe in democracy and Zambia. To keep it straight, they are in prison and appearing in Court because they broke the law and should not pronounce himself and his colleagues guilty until the courts so decide. It is now clear that UPND needs serious schooling in democracy. It is not democracy when you are bent on injuring democracy
As youths in the Patriotic Front, we find ta rather strange that democracy has taken a new meaning in the world of Hichilema. Apparently, the UPND leader has adopted the reverse definition of democracy – something that borders on anarchy, lawlessness and a bumper-car mindset where you want to collide with any vehicle in sight irrespective of whether it's the Presidential motorcade. It's clear, more prayers and fasting is needed for Hichilema's change of heart to happen.
We have no doubt that Zambians look forward to a Mr. Hichilema who will be an advocate against lawlessness and anarchy. After such heavy investment in prayer as we saw yesterday and laid by former Pastor Nevers Mumba, it is hoped that Zambians will see a less angry, less bitter Hichilema preaching peace and national unity. We had hoped that after intense prayers for Mr. Hichilema yesterday, he could have had a radical change of heart, to realise his wrongs and pursue a new path. We had hoped that the "Saul-to-Paul transformation" was part of what his intercessors imagined as they prayed for him fervently yesterday.
It is always a challenge when the nation must deal with individuals who are some political projects belonging to capitalist corporations. As youths in the Province, we also wish to note that Zambia is independent and must continue rejecting puppets of neo-colonialists who want to usurp power through the back door so they can control our natural resources. Anglo America had their time in Zambia and dumped us when we needed them the most, condemning towns like Luanshya to ghost cities. We still remember Hichilema, without any sense of shame, screaming on top of his voice that he would bring them back. Zambians will never forget painful injuries inflicted by Anglo's pulling out under late President Levy Mwanawasa! Once again, we repeat that you cannot injure society and expect to go scot free!
We wonder what Mr. Hichilema means when he says that this Country needs leadership. We do not understand what it is that is rightfully Mr. Hichilema's that he is in Court fighting for. To those who prayed for Mr. Hichilema yesterday, we ask you to go a step further and counsel him from the Bible. The words of scripture in Romans 13:1-5 state as follows:
"All of you must obey those who rule over you. There are no authorities except the ones God has chosen. Those who now rule have been chosen by God. 2 So whoever opposes the authorities opposes leaders whom God has appointed. Those who do that will be judged. 3 If you do what is right, you won't need to be afraid of your rulers. But watch out if you do what is wrong! You don't want to be afraid of those in authority, do you? Then do what is right, and you will be praised. 4 The one in authority serves God for your good. But if you do wrong, watch out! Rulers don't carry a sword for no reason at all. They serve God. And God is carrying out his anger through them. The ruler punishes anyone who does wrong. 5 You must obey the authorities. Then you will not be punished. You must also obey them because you know it is right. (New International Reader's Version).
Daily, President Edgar Lungu continues to preach peace, love and unity. We ask other politicians to emulate the President's stance.
The Author is PF Provincial Youth chairman for Central province
[Read 27 times, 1 reads today]