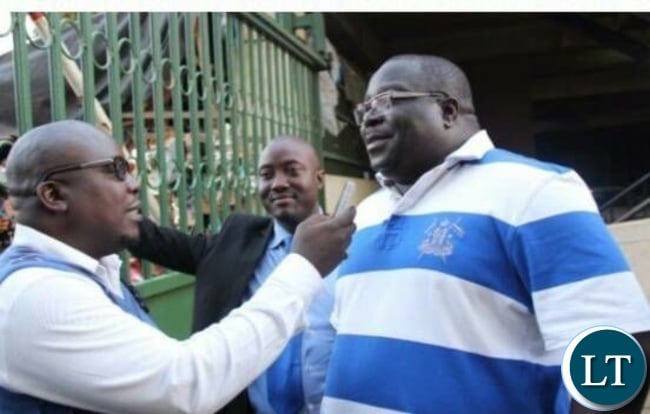 Roan Member of Parliament Chishimba Kambwili says he is as clean like Dr Kenneth Kaunda's handkerchief after he was questioned by the ACC for corruption.
Dr Kambwili was on Thursday questioned by the ACC for corruption.
He reacted after the interrogations that he was a clean man.
The Roan MP described the corruption allegations as bogus.
"I am squeaky clean just like Dr Kaunda's handkerchief, the corrupt people know themselves and time is of the essence," Dr Kambwili said.
He also charged that says it is better for those in government to tell someone they dont want to work with them instead of intimidating them through arms of government.
Meanwhile, ACC Public Relations Manager Timothy Moono said the Commission would analyse the information obtained from Kambwili and decide on the next step in the investigation.
Dr Kambwili was speaking to journalists shortly after a ten-hour long interrogation by the ACC ended at 17:30.
"It leaves much to be desired with our kind of politics in Zambia that if politically you differ, you want to use the arm of the law to fix others, that's not the way it should be," Dr Kambwili said.
"We must learn to be honest with one another, If you don't want to work with somebody, it's better to tell them that 'I don't want to work with you' other than bringing in other arms of government to intimidate those you feel you don't like."
And Kambwili alleged that there is rampant corruption in the PF government.
"And for your own information, there is corruption all over, everywhere. In the street, in government and those who are corrupt know themselves and when their time to answer comes, they will answer but it is very very unfortunate to point at clean men like me, very clean, politically, economically, very clean that they are corrupt," said Dr Kambwili said.
"I have been taken aback, when I was fired, the President said 'I am going to fire some ministers', it has shocked me, and I was waiting because from the time I was fired six months ago, I have never been called by the ACC. I was only called today and I have been waiting all these six months to see the other ministers who are going to join in being fired for being corrupt."
Dr Kambwili said he was shocked by some of the properties brought up during the interrogations as they were not his and he knew nothing about them.
Meanwhile, Mr. Moono said the Commission would analyse the information from Kambwili and decide on what next step to take in the investigation.
He said the investigations bordered on a number issues such as allegations on the abuse of authority of office, the acquisition of property beyond the past and present emoluments (official), and general accusations of corruption.
Mr Moono said the interview was conducted in a cordial manner.
In November last year, the ACC confirmed probing Dr Kambwili over his accumulation of wealth after Lusaka Times exclusively revealed that the Commission had instituted investigations.
The investigations began just a few days after President Edgar Lungu warned that he would fire all ministers engaged in corruption.
In a statement, ACC public relations manager Timothy Moono confirmed that Kambwili was under probe for corrupt practices.
"Following recent media queries on whether the Anti-Corruption Commission is conducting investigations on alleged corrupt practices against Hon. Chishimba Kambwili, former Information and Broadcasting Minister, I wish to inform you that there has been an inquiry against Hon. Kambwili on allegations of corrupt practices," stated Mr. Moono.
"These investigations are on-going and the Commission would therefore not wish to comment further as this may jeopardize the investigations."
The ACC is believing to be probing among other issues, the plush villas which Dr Kambwili constructed on land allegedly belonging to Luanshya Golf Club.