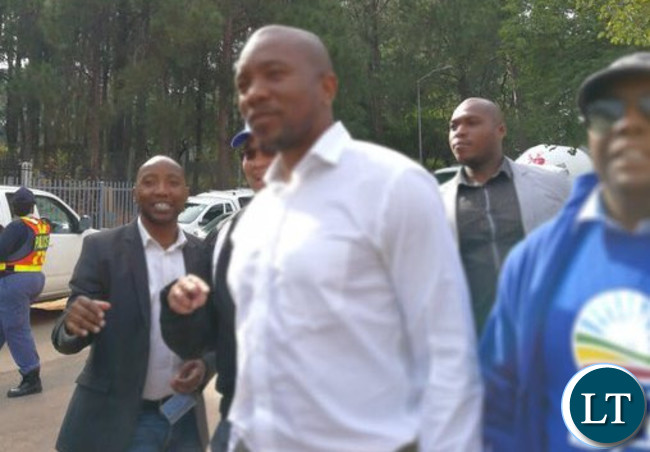 Patriotic Front (PF) director of Media Sunday Chanda has said the Democratic Alliance (DA) leader Mmusi Mmaimane is using Zambia as a deflection from the Hellen Zille racist slur heat.
In a statement today, Chanda was quick to state that the UPND leader Hakainde Hichilema is not a political prisoner but a criminal suspect.
He refuted claims by some stakeholders that Zambia has political detainees, adding under the leadership of President Edgar Chagwa Lungu there will be no political prisoners.
He insisted that Hichilema is a criminal suspect and not a political detainee and has since noted that was unfortunate that South Africa's "Nazi Party" Democratic Alliance leader Mmusi Mmaimane and his sponsors intend to make a political issue out of a criminal case.
Chanda further stated that the PF shall not be lectured by architects and beneficiaries of apartheid like Democratic Alliance, adding that Zambia fought apartheid and even at this stage, Zambia shall not relent in dealing with its agents like DA.
He said Zambia is a sovereign country, with sovereign laws which must be respected by all in the continent of Africa and the world at large and everyone must know that Zambia is not a playground for every tom and dick, including agents of capital such as Maimane.
Chanda further noted Mmaimane must appreciate and realize that he is very lucky and should thank his Sangomas for making immigration officers to favour him by not arresting him on contempt charges after passing highly contemptuous remarks.
"Potentially he was a jailbird. On record, Maimane made the following reckless and highly contemptuous remarks that "We want to pressure the Courts to release Hakainde Hichilema". Maimane also said, "mobilized the fellow opposition to pressure government and the Courts to release Hakainde Hichilema". We want to remind Maimane and his sponsors that Zambia is a Country of laws and if they think they can turn Zambia into their political playground, they are gravely mistaken"
"International diplomats accredited to Zambia and who have commented on the arrest of Hichilema have never referred to it as political but with great wisdom, they have called for speedy and fair trial as per the rules of natural justice. They have also understood that under the doctrine of separation of powers, His Excellency President Lungu cannot interfere in a matter that is before the Courts. In the same vein, we expect all credible organizations to insist on the due process of the law in the case of Hichilema"
"We wish to place on record once more that if blocking a Presidential motorcade is political in South Africa, it is criminal in Zambia. Further we wish to say that it does not matter whether Zambians laws on treason are laughable to others, once someone crosses the line, they are triggered, unfortunately. If it is politics to just walk into a South Africa as an alien, it is law in Zambia that everyone is screened at the port of entry and entry can be denied without explanation"
"We have no apologies to make when Maimane is denied entry into Zambia. It was inevitable and he was correctly advised by the Zambian High Commission in South Africa. It must be said to Maimane that Zambia is a sovereign state and he has no right to enter Zambia as he ignorantly alleged in his interview"
"Entering a foreign state as an alien is the preserve of that Country's immigration department and we think this is simple civics which a political front should grasp easily. Immigration at ports of entry do not exist for decorative purposes. They are meant to screen and send back or arrest characters with questionable agendas like Maimane" Chanda said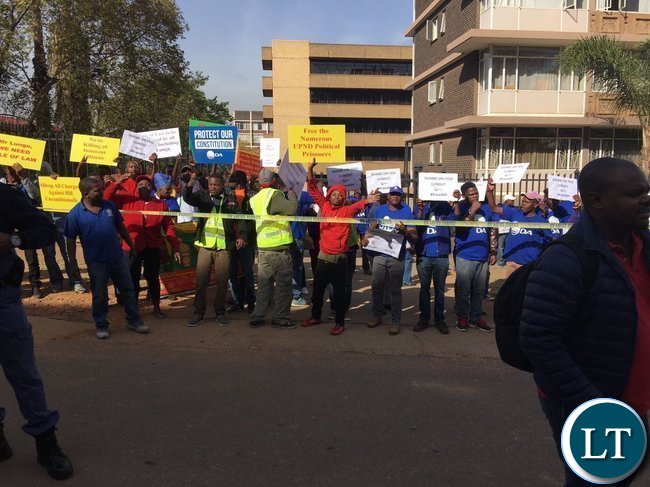 Meanwhile, Some Zambian nationals along with supporters of the opposition Democratic Alliance gathered outside Zambia's High Commission in Pretoria where they protest against the incarceration of Hakainde Hichilema.
The protest also follows last evening's incident where DA leader Mmusi Maimane and his team were barred from entering Zambia at the Kenneth Kaunda International Airport.
Heavily armed immigration officers prevented them from disembarking and their passports and cellphones were confiscated.
Addressing the protestors, Mr. Maimane said the incident shows that Zambia's democracy is falling apart.
"We will stand for democracy, we will stand for the rule of law and we will make sure dictators will not rise," he said.
"How do you charge a man with treason for simply standing up for democracy. That behaviour is only done in North Korea."
Mr Maimane said President Lungu is proving more and that he is a dictator.
"HH has been good in prison for 6 weeks. Why would you charge a person who stands for democracy and you charge him with treason?"
He said democracy is fragile in Zambia adding that the protestors are asking for the freedom of Mr. Hichilema.
Meanwhile, the South African International Relations Department says the manner in which Zambian authorities handled Mmusi Maimane's incident at KK international Airport may have been slightly over the top.
The department says it is understood that a number of heavily armed officers entered the plane on which Maimane and his team arrived at Lusaka Airport on Thursday.
Immigration officers confiscated their electronic devices and passports.
The department's Clayson Monyela says they are now requiring more information from authorities in Zambia to explain why Maimane was barred.
"It wouldn't be over the top to send one official to go into the plane and inform somebody that unfortunately you're not allowed to enter the country for whatever reason, even if you don't offer any explanation. But to send in a number of police, heavily armed, may be slightly over the top."
Mr. Hichilema is facing treason charges for failing to give way to a presidential motorcade last month.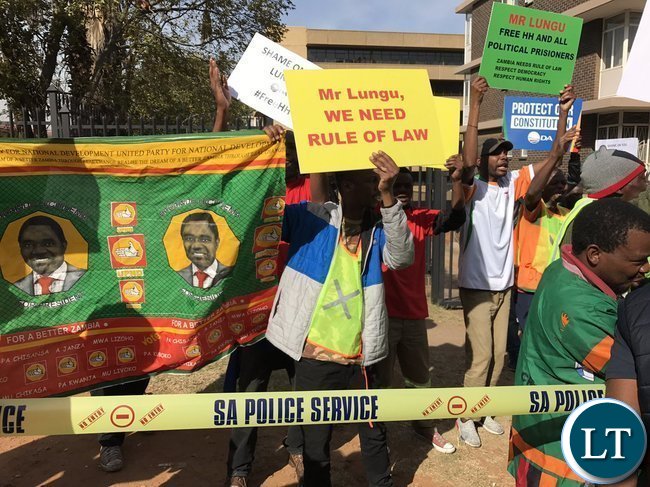 And the Green Party has released the following statement to the media,
GREEN PARTY CONDEMNS DENIAL OF ENTRY AND DEPORTATION OF SOUTH AFRICAN OPPOSITION LEADER MMUSI MAIMANE
======================================================
We as the Green Party are extremely depressed and saddened by the decision by the Zambian government to deny entry and deport Democratic Alliance (DA) leader Mmusi Maimane last evening. We believe that the action by government was high-handed and unwarranted considering the warm political, social and economic relations that have existed between the two countries since 1992.
There was absolutely no breach of Zambia's immigration and other laws that Maimane committed to warrant physical persecution and subsequent denial of entry and deportation. The diplomatic row that the Zambian government has started with South Africa is extremely regrettable and, as the Green Party, we shudder to see the row escalating further. Zambia stands to lose the most economically and socially if South Africa decides to invoke political, economic and social sanctions against us. We therefore solemnly appeal to President Edgar Lungu to reconsider government stance.
There is nothing wrong for Maimane to visit incarcerated UPND President Hakainde Hichilema. Not only did Zambia host ANC leadership but Mukhonto We Sizwe combatants as well.
Zambian and South African politicians have always had reciprocal political visitations before and after the independence of South Africa. The first Republican President Dr Kenneth Kaunda used to have meetings with pre-independence Prime Ministers of South Africa John Vorster and P.W. Botha long before independence of that country. When he was charged with tramped up charges of treason, Dr Kaunda was provided refuge by South Africa.
Speaking for myself as an opposition leader, in 1991, at the climax of apartheid in South Africa, together with late John Sakulanda, I did travel to meet former Prime Minister PW de Klerk and his Cabinet on the issue of black-on-black violence. Prime Minister de Klerk facilitated our meetings with all main opposition parties including ANC, National Party, Democratic Party (as DA was known then), Inkhata Freedom Party, Pan Africanist Congress, and others. What the Zambian government has done to Maimane is therefore utterly wrong.
Peter Sinkamba
President
Green Party of Zambia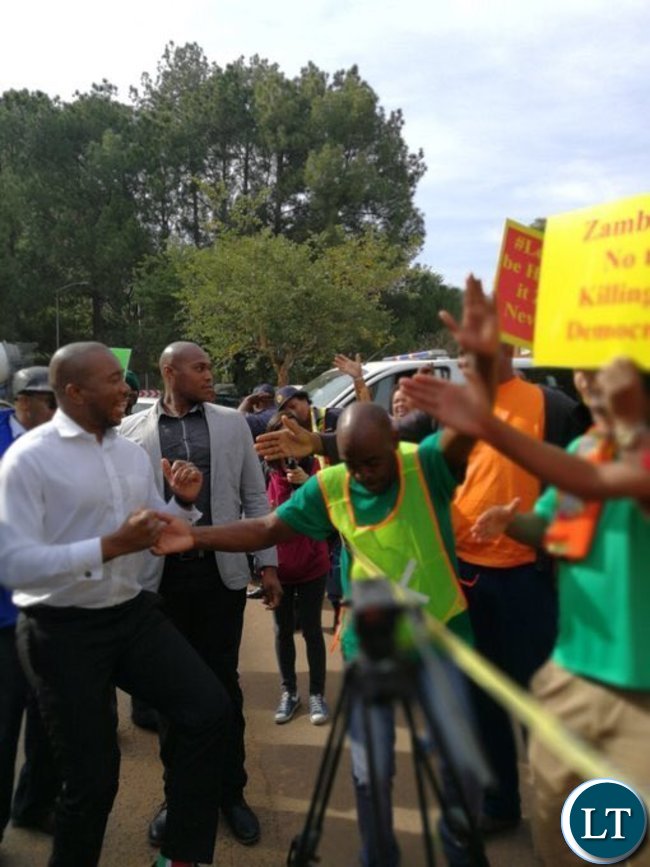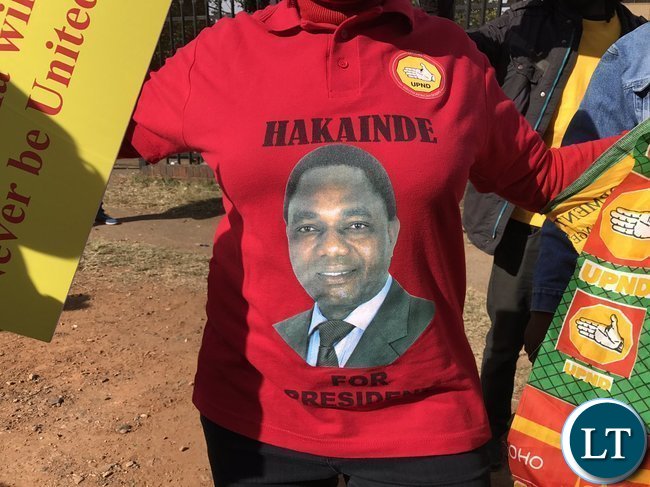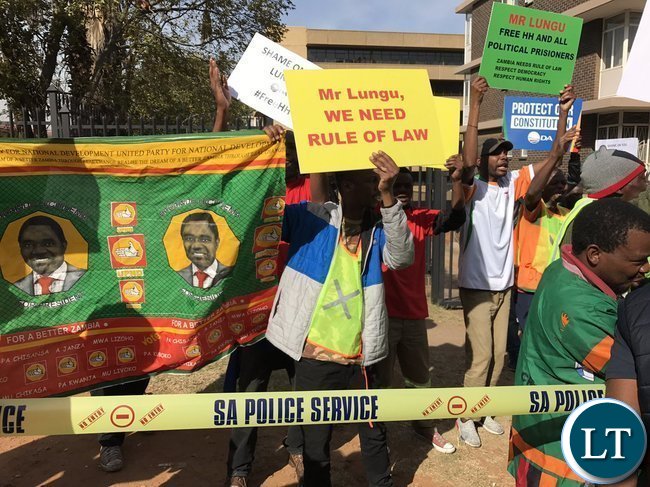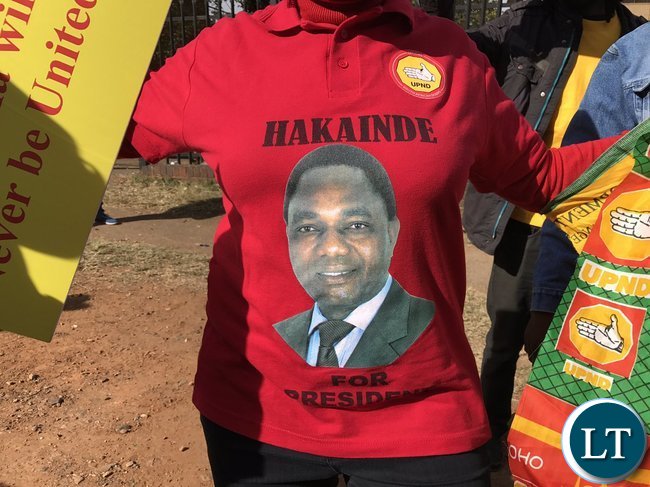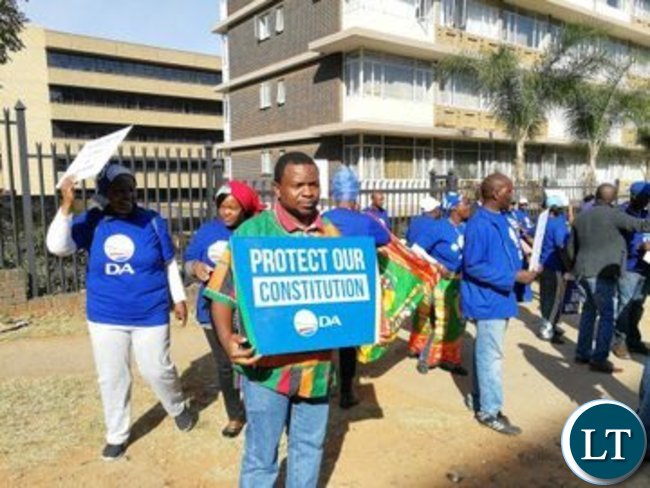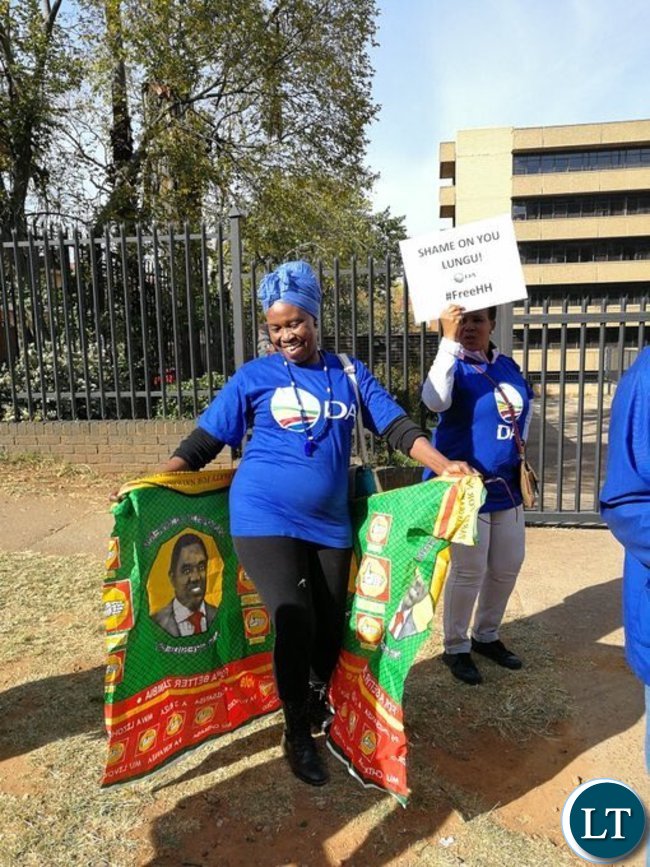 [Read 23 times, 1 reads today]