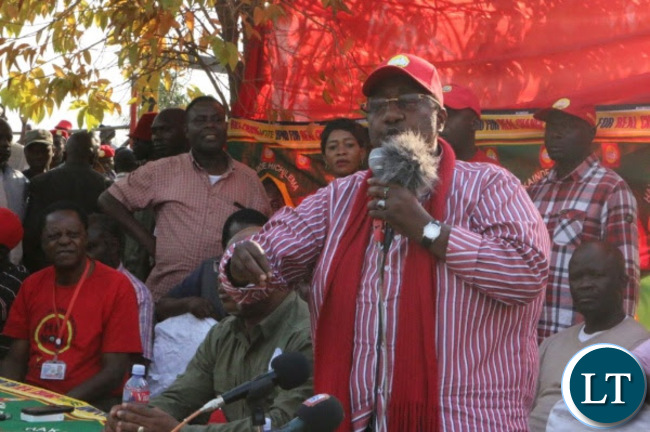 United party for national Development (UPND) Vice President Geoffrey Bwalya Mwamba has said that the anticipated state of emergency is only designed to silence opposition and critics in Zambia.
In a statement today, Mr. Bwalya said Edgar Lungu's invocation of the Threatened State of Emergence is unnecessary and constitutes abuse of power designed to silence his critics and kill democracy and human rights in Zambia.
Mr. Bwalya noted it is now clear that President Lungu's actions are premeditated and designed to strengthen the hand of dictatorship, adding that in Zambia there are adequate laws in Zambia which can be used to deal with any crime.
He stated that cases of arson can easily be dealt with under the Penal Code and other relevant pieces of legislation and it would not be prudent to declare a State of emergency to arrest arsonists.
Mr. Mwamba who is popularly known as GBM said what is required at this stage is for the police to undertake a thorough investigation and bring the culprits to book while ensuring that the Local authorities and Disaster Management Unit assist those affected by the fires to start a new life.
"What is surprising is that even before investigations are concluded, Edgar Lungu and his officials Inonge Wina , "Mwakalombe? stephen Kampyongo and Mumbi Phiri have already predetermined this case and the investigation may neither be thorough nor genuine"
"It was also shocking that Lungu could accuse the opposition of being behind these acts of arson claiming they want to compel him and PF to hold negotiations and form a government of national unity"
"To begin with, UPND has never sought and asked for discussions with PF for a Government of National Unity and we challenge him and the entire PF leadership to prove to the nation that UPND expressed interest to form a Government of National Unity"
"UPND has never and will never seek a government of national unity with a dictatorial regime. Lungu should show leadership for once and tell the nation where he got this fake information he is using to accuse the opposition of being behind the fires. If it is from the police, then he must fire his police command for incompetence or apologize to the nation"
"It is surprising that Lungu jumped to conclusions about the fires and other acts of arson without proper investigations and rushed to declare a threatened state of emergency"
We believe that the declaration of a state of emergency is not in public interest but in PF interest. The State of emergency was schemed by the PF government a long time ago. For example, in April this year Edgar Lungu warned while he was in Livingstone that he would bring a State of emergency if violence and vandalism continued" Mwamba said
[Read 33 times, 1 reads today]