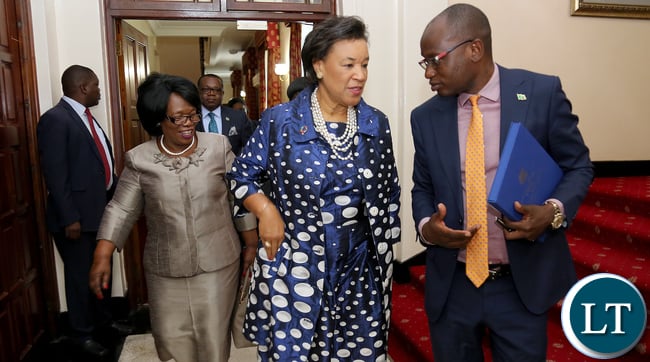 State House says Commonwealth Secretary General Patricia Scotland's second visit to UPND leader Hakainde Hichilema at Mukobeko Correctional Facility in Kabwe is because of matters that arose when she presented her Report to President Edgar Lungu.
Special Assistant to the President for Press and Public Relations Amos Chanda says the report was based on the meeting that Mrs. Scotland had with Mr. Hichilema.
Mr. Chanda told Journalists in Lusaka that at the right time the visiting Secretary General of the Commonwealth will brief the media on her visit to Zambia.
Mrs. Scotland is in Zambia for a series of meetings with various players regarding issues of promoting gender equality and peace among others.
Yesterday, Ms Scotland visited incarcerated United Party for National Development president Hakainde Hichilema.
President Lungu's Press aide Amos Chanda told journalists after the meeting between Mr Lungu and Ms Scotland that the secretary general informed the President that she would be proceeding to Mukobeko Prison in Kabwe.
Mr Chanda said the President encouraged her to do so.
[Read 25 times, 1 reads today]