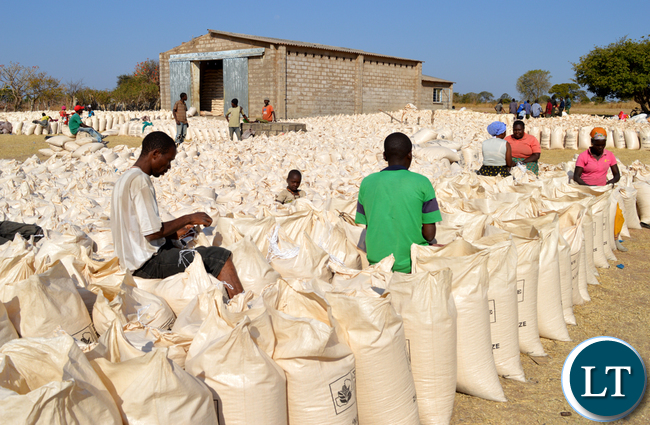 Farmers in various parts of the country have resolved to hold onto to their maize and seek alternative markes.
In Mungwi, farmers are holding onto their resolution which they made last week to hoard their maize until a better price is effected, or better priced buyers are found.
This resolution was made at a meeting called by the Northern Province Cooperative Union (NPCU) which had representation from cooperative chairpersons of NPCU affiliates to discuss the way forward in the face of the maize purchase price announced by the FRA.
The meeting chaired by the NPCU chairperson resolved to look for alternative markets through bulking and urged the farmers to hearken to this call. A price of K110 was proposed as the only price which would receive the support of farmers.
Mungwi District Farmers Association (MDFA) was represented by the chairperson, Mr David Ng'andu.
And Lufwanyama farmers on the Copperbelt are now seeking new markets for their produce following a miserly K60 market price for a 50-kg bag announced by the Food Reserve Agency (FRA).
The farmers have decried that compared to the cost of inputs plough in, the K60 is totally a pittance. The farmers have also bemoaned the distances they have to cover to find an FRA depot because of the reduction in numbers from 16 to 10, and the transport costs they have to incur.
Meanwhile, only three agro-dealers in the area will participate in the 2017/2018 farming season's e-voucher. In Kalulushi out of 13, 000 registered farmers only 7, 340 will benefit.
And most farmers in Mkushi district have resolved not to sell the maize to the FRA opting to keep the produce and find alternative buyers at a later stage who will offer higher prices.
Speaking to some farmers in Luano District, the farmers have given up on growing maize in the coming season and are trying to divert to cash crops such as potatoes. The farmers are looking to the ZNFU to include more cash crops on the Lima Credit Scheme.
This year's market price for maize has prompted private buyers to take advantage of the situation with some buying the commodity at as low as K48 per 50 kg bag of maize.