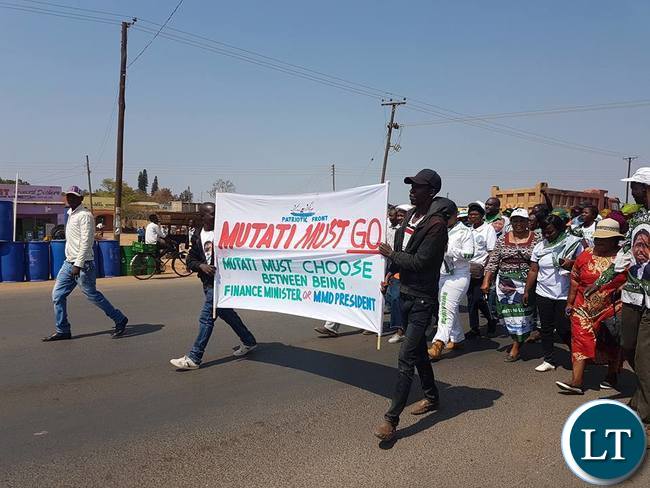 Ruling Patriotic Front Secretary General Davies Mwila says he would be comfortable having Finance Minister Felix Mutati as a full time PF member and not as MMD President.
And senior State House sources have revealed that Mr Mutati is likely to dump the MMD and concentrate on to his ministerial position.
Mr Mwila who yesterday presented to President Edgar Lungu, the petition by party cadres to have Mr Mutati resign his ministerial position or relinquish his MMD presidency said the protests have merit.
He said the PF would prefer 'owning' Mr Mutati full time than having him continue doubling as MMD President.
Mr Mwila this week received anti Mutati petition from several structures of the PF and he presented the petition to President Lungu on Wednesday morning at State House.
The cadres are accusing Mr Mutati of mobilizing the MMD and positioning to challenge President Lungu in the 2021 general elections.
Mr Mwila said the protests by the cadres are justified as they only want him to choose and belong to only one political party.
"We received a petition from Eastern province, and I know there is another one in Central province. I will take all these petitions to the President," Mr Mwila said.
And some highly placed sources at State House have revealed that Mr Mutati is likely to dump the MMD and hold on to his ministerial position.
The sources also confirmed that the anti Mutati petition was presented to President Lungu at State House on Wednesday shortly after cabinet sitting.
They said Mr Mutati was not in the meeting when the petition was tabled as he had left by then.
The sources said President Lungu is also keen on having Mr Mutati quit the MMD and focus on his Ministry of Finance portfolio.
They said that a plan to absorb all MMD structures into the PF has already been devised if Mr Mutati decides to dump the MMD.