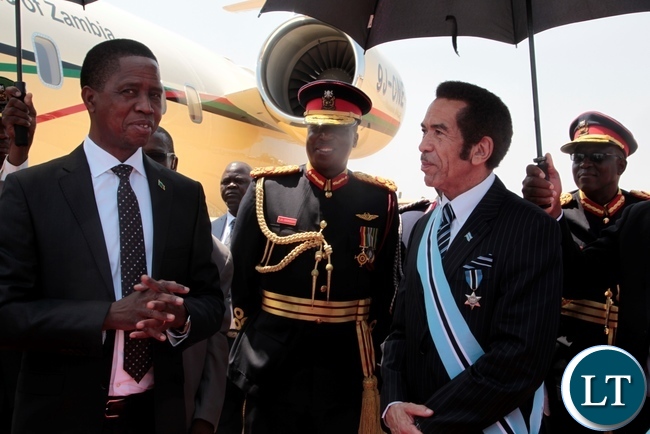 President Edgar Lungu says Zambia has a lot to learn from Botswana because the two countries a lot of common interests.
Speaking in Gaborone after attending Botswana's 51st Independence anniversary at the National Stadium, today, President Lungu said even if Zambia was independent before its neighbour, there are still mutual lessons can benefit the two countries.
He cited economic diversification as one sector that Zambia can draw lessons from Botswana.
"One can still learn lessons from a young brother. There are a lot of practices that have been done and embarked upon by Botswana that Zambia can learn from," he said.
President Lungu pointed out that Botswana has made strides upholding democratic tenets compared some countries in the Southern African region.
He observed that Zambia can also emulate Botswana in its quest to industrialize the country.
"I think in terms of democracy, Botswana has gone to another level, unity and stability are exceptionally higher compared to other countries in the region," Mr. Lungu said.
The Republican President added that apart from learning lessons, there is need to visit other countries in the spirit of solidarity.
President Lungu was in Botswana to attend the country's 51st Independence anniversary which fell today.
The celebrations were characterised by different performances by Botswana security wings and dancing groups at the National Stadium in Gaborone.
President Lungu was in Botswanan at the invitation of his counterpart Lieutenant General Seretse Khama Ian Khama.
He also attended independence eve festivities on Friday evening at the national stadium.
Preside Lungu left for Lusaka at midday.
He was accompanied by his special assistant for press and public relations, Amos Chanda.