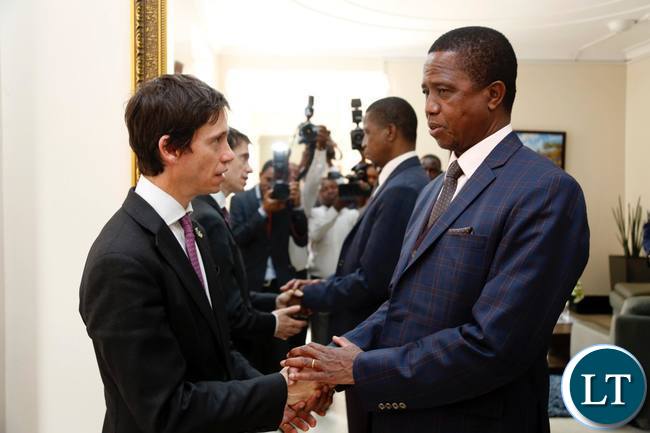 The United Kingdom has pledged to continue supporting Zambia's development agenda.
ZANIS reports that Visiting British Minister of State in Charge of Africa and International Development Rory Steward said the United Kingdom is keen on working with the Zambian government on a number of bilateral issues which fall in the frame work of the common wealth.
Speaking when he paid a courtesy call on President Edgar Lungu at State House in Lusaka today, Mr. Steward said Zambia plays an important role in the region due to its stability.
"Zambia's stability has an effect on other countries in the region", said Mr. Steward.
"The United Kingdom is willing to help Zambia as the country deals with refuges.
The British minister also said that his government is concerned with the levels of poaching in Zambia and that the UK will do all it can to help reduce the vice.
Mr Steward said Britain is ready and willing to work with the Zambian government in order to improve the welfare of the Zambian people.
"We would like to see where we can work together whether it is in governance, livelihood or education," said Steward.
And President Lungu said, it was important that the two countries scale up their development cooperation especially that Britain has created a new ministry in charge of African developmental issues.
The Head of State said Zambia is diversifying from mining to agriculture and process raw materials as opposed to mere production.
President Lungu said Zambia was now encouraging and attracting investments in other sectors including the energy sector.
"We are in a transforming path of our economy so that we can improve the quality of life", said President Mr Lungu.