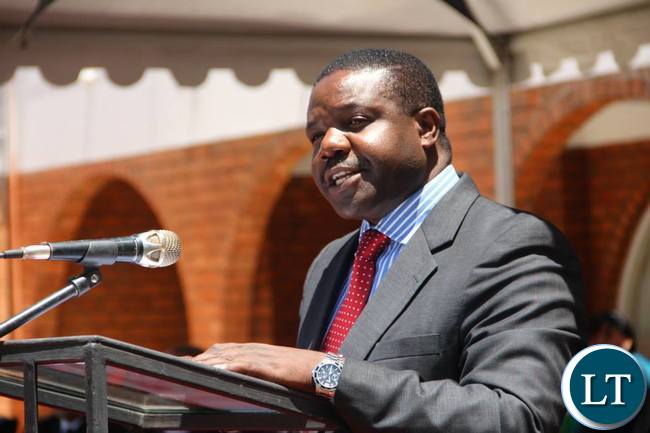 By Chibamba Kanyama
I have received many enquiries from colleagues about what I make of the 'breakdown' in talks between the Government and the International Monetary Fund. My views are as follows:
1. Both parties, the Zambian Government and the IMF want the Program. On the part of the IMF, lending for balance of payments support is one of its three co-mandates. When Zambia requested for a program this year, the IMF expectedly went into motion, preparing ground for lending to one of its member states; in part to support economic stability and second, to contain spill-over effects. As things stand, Zambia is at high risk of debt distress and all efforts must be made to bring the risks down, moderate as the target. IMF responds professionally and aggressively to requests for lending for a three-year package that attracts the barest of interest rates (presumed to be below 1 percent).
On the part of Government, the economic fundamentals have been very weak since 2015 and if not fully arrested, the country can slide back to what we just experienced despite a rebound in copper prices, an end to power outages (certainly at huge cost) and an end to election-induced spending. Both the Minister of Finance Felix Mutati and Bank of Zambia Governor Denny Kalyalya are aware of the potential risks and the best response is to build economic buffers the IMF route. Creditors to Zambia, particularly sovereign bondholders, are fully aware of this risk and that is the reason the ongoing talks are international news. Any indication of breakdown in talks has an immediate impact on the exchange rate. Just recently, the government securities were undersubscribed hence (in part) the scarcity in dollar supply.
2. The real problem leading to what we may term 'breakdown in talks' is Zambia's true debt position. IMF has in the past three years (learning from Mozambique and, in part Greece) placed substantial weight on Debt Sustainability Assessment (known as DSA). I have privately shared with government officials in the past one year to take time to understand how the IMF operates because any mishap in negotiations will trigger reputational problems. IMF is a 'data' organisation. You can lobby, talk and persuade it on a position using qualitative information. They will just look at you. Dealing with IMF requires authentic quantitative information. It appears the data government has provided the IMF is not speaking to the data IMF has about Zambia's debt profile. IMF wants government to come clean on this issue.
Let me use an analogy to drive the point home (this analogy is grossly misstated but helpful for purposes of this communication): You are planning to marry a king's daughter, all is going well in terms of wedding preparations except for the setting of the date for exchanging rings and vows. Suddenly, information emerges that the 'groom' is seeing someone else, who is already pregnant. The king's daughter will not call off the wedding but may ask you to come clean before you proceed with the marriage! Were there loans contracted in 2017 while program negotiations were in place? This appears to be the case.
3. Way forward: Government has done a lot so far to ensure the program succeeds. The level of commitment on the part of the Minister of Finance and his team cannot be under- estimated. Sufficient ground has been made for an IMF program such as subsidy reforms and many more reforms associated with debt contraction underway. President Edgar Lungu has personally made announcements in support of an IMF program, an assurance that sits well with IMF. However, a few things ought to be done:
a. Dedicate a fully commitment team of technocrats to skim through the mountains of data and provide that which sits well with IMF expectations. Having chatted with the IMF Zambia team on several occasions over lunch when I served at the Fund, I would urge Mr. Mutati to rehire the former permanent secretary Felix Nkulukusa to support the current Permanent Secretary Mukuli Chikuba. Nkulukusa is highly respected in the IMF ranks and can fully support the Zambian team as a consultant for speedy and authentic execution of the project. The duo, plus other negotiation team members, cannot fail to deliver.
b. There must be a definite buy-in by the Cabinet. I have raised concerns before that Cabinet does not appear to be in full agreement on an IMF program and that's why it seems, in the eyes of the investors, the program is pushed by only two people, Mutati and Kalyalya.
c. Communication around the programme should be in simple clear language for all stakeholders. However, given the presumed stalemate, I propose the IMF engagement be withdrawn from the public eye. It is either you disclose the whole truth or you say nothing at all. The latter is the best option as things stand.
d. Let us not give up. The IMF program is good for Zambia. There are no more conditionalities to come following what Government has already done. The benefits will be fiscal discipline, beefing up of reserves, unlocking of budget support from concessional lenders and the closing of the Chapter so that energies of technocrats are redirected elsewhere.
Chibamba Kanyama recently served as Front Office Communications Advisor at the International Monetary Fund in Washington DC and currently serves as Managing Consultant for Bridges Limited, specialising in Leadership and Management Training.