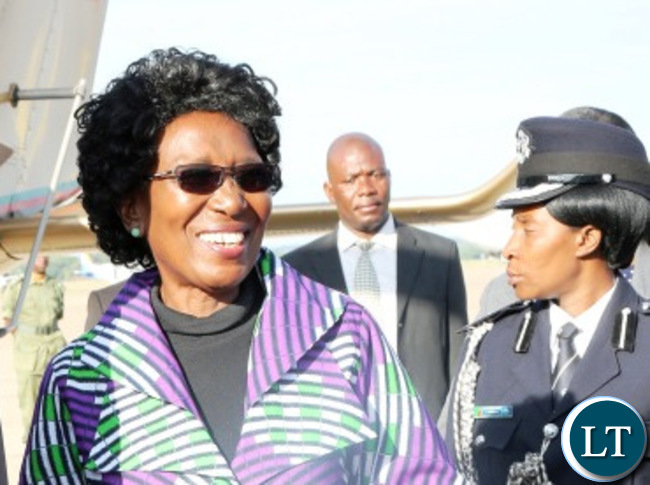 Ruling Patriotic Front (PF) Vice President Inonge Wina says the party has continued to promote intra-party democracy and urged opposition parties to emulate PF in deepen democracy in the country.
Mrs. Wina, who is also Republican Vice President, noted with sadness that some named opposition political party leaders have never sought mandate from their members through elective conventions hence lacks credentials of being democrats.
The PF Vice President was speaking when she officially opened the first ever One Day Lusaka Province Patriotic Front Committee Consultative Meeting in Chongwe District under the theme: "How best can we mobilise our party in the Province."
She implored PF members to ensure that intra-party democracy continues to thrive in the party and praised them for growing the party to its current state.
The PF Vice President noted that the party has continued to demonstrate that intra-party democracy canbe achieved hence the need to be inclusive by welcoming more people in the "Boat".
She further noted that politics is about numbers therefore, the party needs to recruit new members if it's to continue winning future elections.
Mrs. Wina however, cautioned members to be mindful that the country is operating in a multiparty system where divergent views are respected in line with tenets of democracy.
"Let us all rise up to support our hardworking Party and Republican President (Edgar Lungu) who has demonstrated that with a vision and focus Zambia can once more become a prosperous and middle income country by 2030,"she said.
The Vice President noted that the 2020 PF General Conference is meant for organizational renewal to make it more transformational hence there's no need for members to start sowing seeds of discord.
She called on the rank and file to remain steadfast, disciplined and united in diversity if the party is to avoid an unnecessary conflicts from within.
Mrs. Wina urged PF members to welcome and embrace new members if the party is to remain strong, competitive and attractive in readiness for future elections.
"As we meet to mobilise ourselves into an energetic force in the province, let us make that solemn pledge to commit ourselves to abide by the aims and objectives of the party of participating actively without motives of material or personal gain," she advised.
"This is what our founding President Michael Chilufya Sata stood for. This is what President Edgar Lungu has continued to promote because it's part of who we are as a party.
"We must also remember that we need to mobilise the party not just for the sake of it but as a vehicle of carrying out the aspirations of the Zambian people."
The PF Vice President pointed out that PF is a vehicle that must continue to assure and re-assure Zambians of all ages and gender that it is unstoppable in its continued quest to develop the country.
Earlier, Chongwe Member of Parliament Japhen Mwakalombe praised government for rolling out massive infrastructure development in the Chongwe District, in particular and Lusaka Province as a whole.
Mr. Mwakalombe who is also Lusaka Province Minister, said the expansion of the Kenneth Kaunda International Airport, the construction of the first ever Lusaka Specialised Hospital and the expansion of the Great East Road into a dual carriage way is testimony of government's commitment of uplifghting the plight of Zambians.
The Chongwe Law Maker revealed that in 2018 government will tar 20 KM of township roads aimed at accelerating the new municipality status of Chongwe.
And speaking at the same event, PF Lusaka Province chairperson Horrace Longwe said the party in the province is intact and ready to face the opposition in future elections.
Mr. Longwe reiterated his call for opposition political parties claiming popularity to be brave enough and call for elections in their parties prove to Zambians that they can win even in their own political parties.
He stated that it is strange that some political party leaders that have never gone through an election in their own parties want to claim to be more popular among Zambians.
Chongwe MP, Japhen Mwakalombe, Chawama MP, Lawrence Sichalwe, Luapula MP, Emerine Kabanshi and Munali MP, Professor Nkandu Luo attended the meeting.
The One Day Lusaka Province Committee Patriotic Front Party (PF) Consultative Meeting is expected to come up with resolutions which will be submitted to the Central Committee, for possible considering.
The meeting has also attracted all PF MPs, Mayors, Chairpersons, Councillors, Constituency, District and other party officials in the province.
Lusaka Province has 14 constituencies with Lusaka District leading with 7 while Kafue,Shibuyunji and Chirundu with one each.
The rest are Chongwe, Rufunsa, Luangwa and Chilanga respectively.
[Read 12 times, 2 reads today]