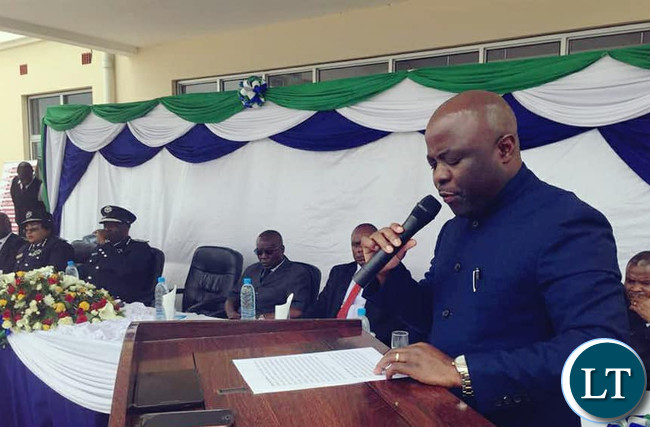 Home Affairs Minister Hon Stephen Kampyongo has cautioned the Inspector General of Police and his Command to discharge their duties closely following the rules and procedures on how to engage in initiatives such as neighbourhood watch, Police Reserve and other community crime prevention initiatives.
Speaking at Chelstone Police Station in Lusaka yesterday morning when he officiated at the launch of the Zambia Police Revenue Direct Deposit System under the theme; promoting a transparent and high quality services, the Home Affairs Minister emphasised that the role of government is not to politically interfere in the day to day operations of the Zambia Police as a professional entity but to merely provide policy guidance and advise in serving the public better.
AND during a Special interview with the Media immediately after the launch of the Zambia Police Revenue Direct Deposit Initiative, Hon Kampyongo reiterated that the Inspector General of Police was within his mandate to rescind his earlier decision after consultations.
"The Inspector General of Police has a mandate to run the affairs of the Zambia Police service without interference and like I said from my remarks, it is also important like you heard him mention yesterday that he had to consult. And when you talk about consultation, the I.G was within his mandate to do what he did.
Asked on whether the decision to rescind his earlier decision was a sign of weakness on the part of the Inspector General of Police, the Home Affairs Minister stated that the ability or preparedness on the part of the Police Command to rescind a decision after consultations ought to be viewed as strength in acknowledging an oversight.
"How can that be a weakness? In fact, that should be the stronger point. You in your profession, you can't tell me that you have been a perfect Journalist! That you have never made any mistake at all. That is why you have got the Editor; when you make mistakes, you go to the editor to check your Work.
"So if there was a slip up on the part of the Inspector General, that is why there is a Minister of Home Affairs – that is how things work. So that should not be viewed as a weakness. For me, it should be seen as a stronger point because there is strength in acknowledging an oversight and immediately correct them. That is how it should be unless you are telling me that you want arrogant people who would not hear you even if you cry!
"He is here to provide a service and in providing services, certainly you can not be 100% perfect. There will be times when we are all prone to error and behind these Uniforms, they are all humans just like you and I. So you should expect that there will be mistakes but what is key is to quickly remedy such mistakes and that is why we have the hierarchy," Hon Kampyongo said.
And asked by Augustine from Hot FM on whether investigations had been instituted to find out which Police Officers were behind the beating up of CBU Students, Hon Kampyongo disclosed that his Ministry will engage the Ministry of Higher Education immediately a report of the ongoing investigations is availed and appropriate action to be taken on Officers who are found wanting.
"Investigations are underway and I have assured the Ministry of Higher Education that once the report is tendered, we shall engage them like we have always done before were we have found our own officers on the wrong side of the things, we have instituted the measures that are applicable within the law.
"But my appeal to the students and I have always appealed that they must be civil in airing their grievances because intellect is seem by how people get to convince others in their grievances. It is time we saw students become intellectuals as they are by being civil as they engage those in authorities in airing their grievances. That is the way forward.
"How does it please them because the property they damage are for former Students as well. How would you feel, you are moving out of here, you go to Great East road – next thing, your property is damaged when you are not even part of the grievance that is being aired.
"So it is important that our Students find another mode of airing their grievance in order to get attention from the authorities. It is Stone Age to always run to the street to damage people's property. So to avoid all those issues because where Police go to restore order which has broken down, there are certainly collateral damages an that you can't avoid. So the best is to avoid confrontations at all times."
[Read 284 times, 1 reads today]