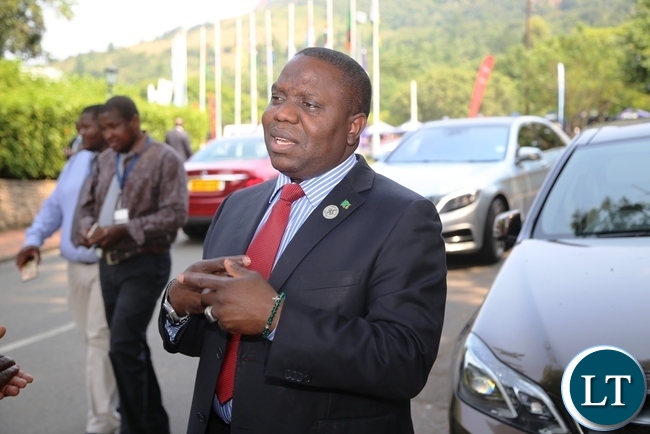 Minister of Foreign Affairs Harry Kalaba has described 2017 as a successful year because the Ministry achieved most of its benchmarks.
And Mr Kalaba has commended Zambian diplomats for assimilating the movement from political to economic diplomacy.
Speaking in Addis Ababa, Ethiopia yesterday when he was transiting to France, Mr Kalaba said some of the successes scored were the completion of the legal, financial and Structural implications to allow the relocation of the Economic, Social and Cultural Council of the African Union from Ethiopia to Zambia and the conferring of President Edgar as the UN HE FOR SHE Campaign champion.
Mr Kalaba said it is in this year that Zambia ascended to the Chairmanship of the SADC organ TROIKA on Politics, Defense and Security.
He said the climax of the successes in the Ministry was the hosting of the African Union Peace and Security Council High Level Meeting in Livingstone early this month. The meeting was described as a great success and Zambia continues to work as a crusader of peace and security on the continent.
And Mr Kalaba has commended Zambian Diplomats for assimilating the movement from political to Economic diplomacy.
He said government was now focused on economic diplomacy and wanted to ensure that Zambia reaps benefits of being in good business, trade and economic relations with the outside world.
Mr Kalaba also commended Zambians diplomats for representing the country well in their countries of accreditation.
He also thanked the staff at the ministry of Foreign Affairs for working diligently and ensuring that the country in well represented in all aspects.
He also said the festive season must be used as a time to reflect on the birth of Christ and share the joy of his birth with all people.
The Minister wished all Zambians in the Diaspora happiness, joy and God's blessings during the festive season.
He was received at Bole International Airport by Zambia's Ambassador to Ethiopia and Permanent Representative at the African Union Ms Susan Sikaneta.
[Read 82 times, 1 reads today]