Zambia stands in a stronger path of attracting millions of dollars in FDI compared to other countries in the southern region due to its tested history of peace and political stability, an influential German business association has said.
During a courtesy call paid on Ambassador Anthony Mukwita's offices on Axel -Springer-Strasse in Berlin, Mr. Christoph Kannengiersser, CEO and Director General of the German-African Business Association (GABA) known by its local name of V Afrika-Verein said all Zambia has to do now is to continue using its good name abroad to woo investors to pump money into the southern African country.
"You can count on your good international reputation as a peaceful and politically stable country to help boost investment which in turn will help create jobs and reduce poverty," said Mr. Kannengiesser.
The business stalwart was accompanied by Ms. Peggy Shulz, the GABA Manager for Southern Africa and veteran member Ambassador Egon Kochanke who has served Germany diligently in Tanzania and Namibia in the past.
Mr. Kanneniesser said German investors feel that Zambia is ripe for investment in the area of agriculture, energy and tourism, "and our organization will ensure it drives traffic towards those areas that are profitable for both Zambia and German investors…Zambia is a good destination."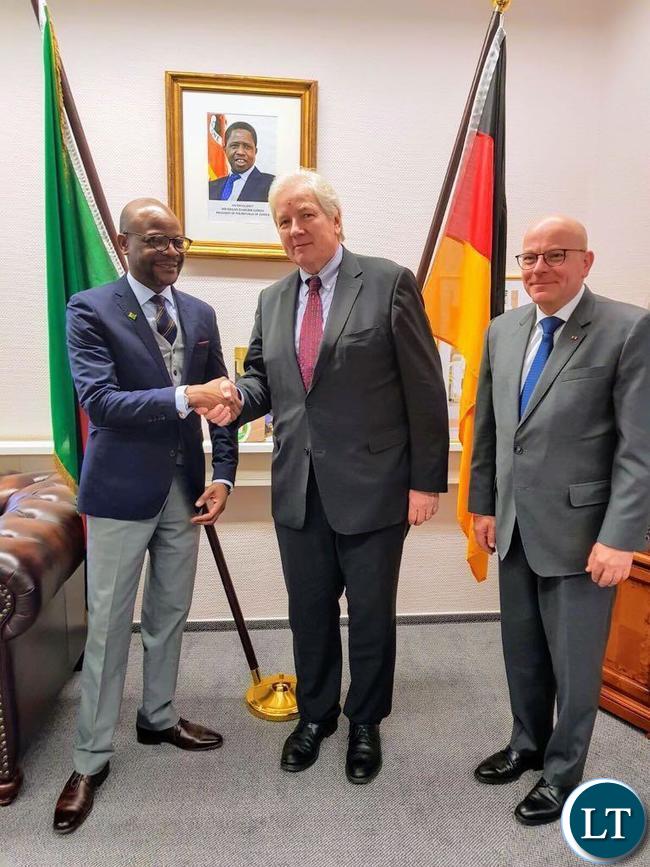 GABA is a national association established more than 50 years ago and boasts of a total membership of some 550 companies across various sectors some of which are already operating in Africa and/or are carrying out feasibility studies to invest in countries such as Zambia.
Ambassador Mukwita thanked the Kannengiesser led entourage and assured them that, "on our watch we shall ensure that the economic relations we have enjoyed perhaps rise as we start a new year in 2018."
The top Zambian diplomat in Deutschland said he hoped the number of trade road shows will spike upwards in the years to come as Zambia under President Edgar Lungu opens up further and creates an environment of fair trade.
"The sector attracting and begging for investment right now is energy and agriculture in our view," Ambassador Mukwita said, "this is especially so after President Lungu became the first Zambian President since independence to systematically remove subsidies on electricity that kept tariffs low and uncompetitive in the past."
The Ambassador said with other countries in the region suffering devastating effects of climate change, Zambia also stood a better chance to quickly diversify and improve the agriculture sector.
Zambia has demonstrated through two last bumper harvests that it could be a regional grain basket.
GABA CEO Kannengiesser said his association has lined up a number of events to promote business where Zambia will be expected to participate and exploit partnerships with German business in 2018.
The Zambian diplomat reminded the association CEO that investing in Zambia was advantageous for any German company because of its 'land linked' nature and the fact that it belongs to a family of more than 300 million citizens of SADC and COMESA.
This is one of the several times investment organisations have tapped Zambia as a preferred country of investment.
Both Ambassador Kochanke and Mr. Kannengiesser have personal business knowledge of Zambia having travelled there more than once on business.
Ambassador Mukwita told the entourage that Zambia under President Lungu is determined now more than ever to create jobs, diversify and reduce poverty through economic diplomacy.
[Read 6 times, 1 reads today]