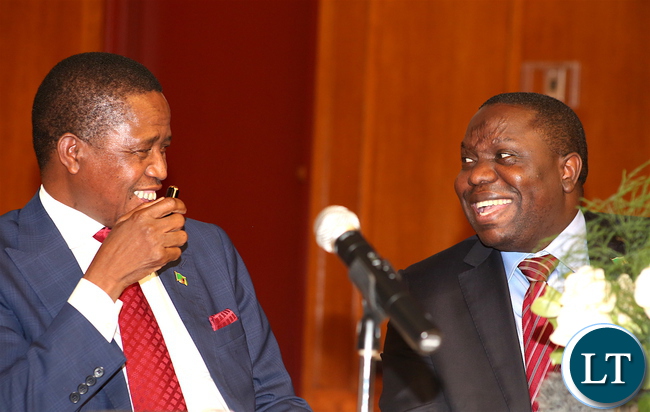 Roan Member of Parliament Chishimba Kambwili has commended Harry Kalaba for resigning his position as Foreign Affairs Minister.
Mr Kambwili said Mr Kalaba's departure from the PF government is the beginning of something huge.
He said the resignation of Mr Kalaba will be followed by more big names because a revolution is coming.
"You kept you word my brother. It's better to leave the den of thieves and fight for your country," Mr Kambwili wrote on his Facebook page.
"Minister of Foreign Affairs Harry Kalaba resigns from the kangaroo government with immediate effect. Citing the rampant corruption that is robbing the ordinary Zambian citizen of their wealth."
And UPND Chairperson for Strategy and Mobilisation Sylvia Masebo says the resignation of Mr Kalaba is commendable.
Ms Masebo said Mr Kalaba's resignation must surely shake the false foundation with which the PF Government has claimed it's legitimacy.
She said the development is profound and a rare principled stand not seen in Zambia in a long time.
"We live in a time where greed and the quest to enrich oneself at the expense of the masses has taken center stage in African leaders. To find a leader who will resign on moral grounds citing high levels of corruption in his government is a rare occurrence in African politics and needless to mention, Zambia," Ms Masebo said.
"Our forefathers fought for independence so we could have social, political and economic freedom. The levels of looting and gross mismanagement of state resources that we are currently witnessing under Edgar Lungu's regime is disheartening and unprecedented and threatens national security and unity.It must be stopped not tomorrow or next week, but now!"
Ms Masebo said the decision to resign by Mr. Kalaba is noble and should be commended by all patriotic Zambians regardless of political affiliation.
"He is a rare breed and his actions should be emulated by all those sitting government officials that are not in agreement with the unprecedented levels of corruption and looting by the PF government."
She added,"I still insist, it's not a partisan affair but a Zambian issue that affects every citizen of any colour, creed, sex, tribe and religion. Let's join forces and weed out these elements of corruption that are impoverishing our country."
"If we don't speak as one people to stop this wanton plunder of our national resources by crooks and criminals that control our Government, who will speak for us? Every Zambian voice from Kaputa to Gwembe, Chipata to Mongu, Mbala to Sesheke and Zambezi must speak out and say enough is enough!"
Meanwhile, Luapula Province PF Secretary Francis Musunga has said that Harry Kalaba's resignation as Foreign Affairs Minister is a huge relief to the party.
Reacting to Mr. Kalaba's resignation on Tuesday, Mr. Musunga who is also Samfya Town Council Chairman said the PF in Luapula Province would now breathe a collective sigh of relief following Mr. Kalaba's exit from government.
"Honorable Kalaba's resignation is a huge relief. It should have come earlier than this because we became fatigued of Mr. Kalaba's clandestine activities which include sponsoring anarchists who are now removing party flags in Mansa," said Mr. Musunga.
Mr. Musunga said Mr. Kalaba had become a danger to the unity of the party because of his treacherous behaviour.
He said his resignation was long overdue especially that President Lungu had kept him even when he continued to sponsor confusion in the Province.
Mr. Musunga said the PF in Luapula Province had always been ready to meet Mr. Kalaba in the Bahati by-elections if he chose to recontest.
He said Mr. Kalaba had no capacity to defeat the ruling party in the Province because the structures were intact and fully behind President Edgar Lungu.
Mr. Musunga explained that he had appealed to Mr. Kalaba to be patient with himself before engaging in an agenda to become President.
"I personally talked to Honorable Kalaba and advised him against being too fast and overly excited to challenge President Lungu. He became big – headed and forgot that it is PF that made him who is. He was a nothing before PF picked him to contest the Bahati seat,"
[Read 12 times, 1 reads today]