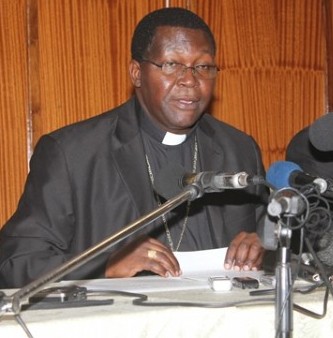 Kasama Archbishop Ignatius Chama says the introduction of the electronic voucher system has helped in getting rid of bogus farmers in the country.
Archbishop Chama observed that the previous system was marred with dubious means in an interview with ZANIS in Kasama.
He said the programme which was meant to empower the vulnerable but viable farmers however ended up being abused by people with selfish motives.
The clergyman is however concerned that in some districts the e-voucher has not worked well and called for urgent measures.
He said the delay by government in activating e-vouchers cards for some small scale farmers in selected districts in the province is worrying as it has the potential to cause hunger.
Archbishop Chama mentioned Nsumbu and Kaputa as some of the Districts were farmers complained over the delay in the distribution of inputs when he visited the area recently.
The Archbishop has since appealed to government to expedite the process of giving farming inputs for the 2017/2018 farming season.
Archbishop Chama is optimistic that next year government will address many challenges faced by the system this year so that the exercise can commence between July August.
Meanwhile, Limulunga District Farmers Association Chairperson, George Banga has expressed disappointment with the inconsistencies that have characterized the Electronic Voucher System (E-Voucher) this farming season.
In an interview with ZANIS, Mr. Banga said a number of farmers with e-voucher cards which have been loaded with money have been failing to swipe for farming inputs.
Mr. Banga said Small Scale farmers who depend on farming for their livelihood will be disadvantaged because of the barriers surrounding the successful implementation of the e-voucher system.
He has since appealed to the Ministry of Agriculture to tackle the inconsistences because if not addressed, the situation will limit productivity and harvest.
And Limulunga Assistant District Marketing and Development Officer Lasmon Kaumba confirmed that 132 farmers who have their E-Voucher cards laden with funds have failed to swipe for farming inputs.
Mr. Kaumba said farmers were unable to access farming inputs because when they attempt to swipe they receive a notification that the transaction is unauthorized.
He also disclosed that out of 289 farmers who deposited for farming inputs, 157 farmers have not yet received funds in their cards.
Mr. Kaumba has since urged farmers who have already deposited to secure their inputs for the 2018/2019 farming season.
And Provincial Senior Marketing Development Officer Chibimbi Chungu has assured farmers that the province and district are working out a solution to protect the plight of farmers.
Mr. Chungu said the province is engaging Smart Zambia, the Bank and the Ministry of Agriculture Headquarters to iron out any discrepancy.
He said government is determined to ensure that farmers are able to utilize their e-voucher cards and collect their farming inputs as soon as possible.
[Read 9 times, 1 reads today]