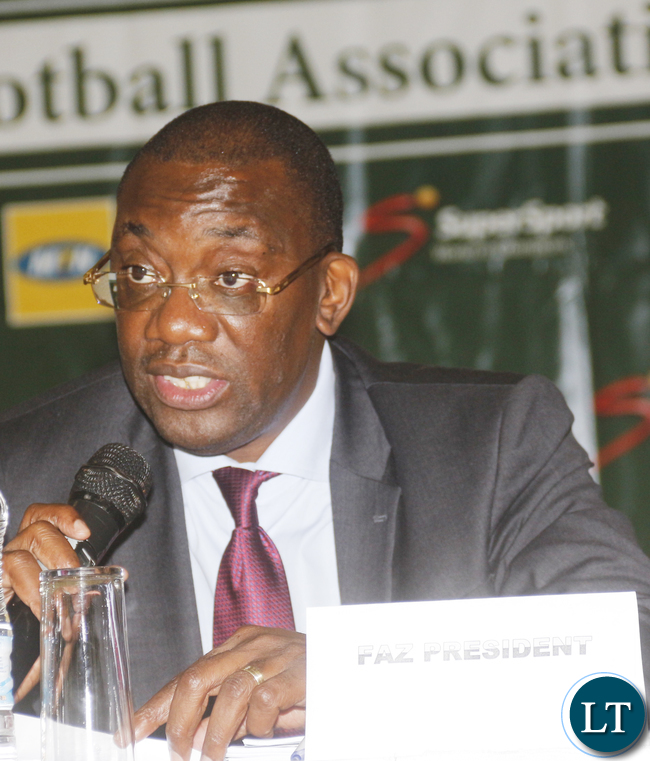 Football Association of Zambia (FAZ) President Andrew Kamanga has dispelled reports alleging that he has been funding confusions at the demoted City of Lusaka Football Club.
Kamanga regretted that his noble help to the club that has in the recent past produced legends has been perceived as sponsoring confusion by the Simata Simata led group who have taken over the management of the club.
Kamanga noted that like many other Zambians who have been ardent follower and supporters of the Zambian game for many years, he took it upon himself to contribute to the growth of the game by providing some financial support towards the club.
He stated that his contribution to the club's financial growth dates as far back as 1995 saying that he felt a great responsibility as a Zambian to offer support to a club that has continued to be a source of livelihood for many young people wishing to make a living through football.
"It is indeed a fact that the Justin Zulu led group were courteous enough and reminded me that I needed to meet my sponsorship commitment and I agreed that I will, like in the pasty help the club. It is however, saddening that the Simata Simata led group jumped on it and accused me of funding City of Lusaka. When I challenged them to produce evidence, they produced a social media posting," Kamanga explained.
Kamanga wondered whether supporting a club financially is a break of the FAZ statute because he has been supporting some clubs that include Mufulira Wanderers.
He said he has no problem assisting the club financially but stated that he will only provide any financial contribution to city of Lusaka for this year once the perceived wrangles between the parties involved are resolved.
He stressed that it was disappointing that at a point when people should be channeling energies towards the development of football in the country, some people have resorted to innuendos without basis.
The FAZ boss has since advised that people should use the right channel of communication whenever they are aggrieved.
And he has clarified that his contribution towards the development of Zambian football started way before he was elected FAZ President and will continue even after he leaves office.
This is contained in a statement released to ZANIS in Lusaka today by FAZ President Andrew Kamanga.
[Read 9 times, 1 reads today]