Objective criticism helps the leader
I have been criticized by many bloggers for almost always being critical of the leadership, especially the leader. I wrote about the need for a President to care about what he dresses, and the response was that he can wear anything, that clothes do not illustrate a good or bad leader, it is the brain that does. That is your opinion. Some bloggers continue to ask for my identity as in name, yet, I don't have theirs. We all have different ways in which to advise the leadership. Some are soft and prefer even to tell lies or pretend that everything is fine. Like in the emperor's new suit story, they will go a long way to tell the leader that everything is going well. Or they will say nothing to discourage or educate him. And that is how the African leadership and its followers often works. They hate dissent or different views and will go a long way to find words of putting off those who try to help. For example, how can you accept that the leader must wear shirts like the one he wearing in the image? This is cheap populism of showing that he is like the poor women. The poor women know that he is the leader therefore expect that he should be better dressed.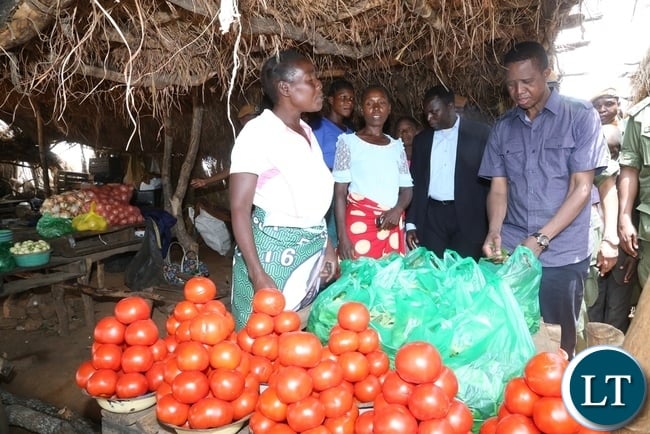 Don't just buy from them, leave them with cheap but descent shelter
And African leaders accept the culture of not being criticized. They prefer to be told that everything is going on well until disaster strikes. I prefer to help before that happens. In the image above, I have a different issue to raise. There is nothing wrong in the leader being with the poor, chatting with them and even buying their produce although this image is taking place in the period when the nation, including the sellers of tomatoes are still mourning their friends and relatives who died and continue to die from cholera. It is supposed to be time for teaching these poor sellers hygiene and selling their merchandize in clean places. It is time for leadership to educate, and more importantly to lead by example. How does the leader know the health state of the vegetables and tomatoes? Just because they look clean does not necessarily mean that they are free of cholera. The market place does not have signs of good-looking toilets. Obviously, they don't have. It is this part of the story that breeds cholera.
I'm not saying that the leader should not buy from the poor women. Of course, he should. But from a good environment which he should encourage, not from dark age shelters. One good example means that the leader goes to this road market place, sees the bad state of the market and leaves it with some descent shelter including clean and good-looking toilets where the poor women will sell. If he had come for a political campaign meeting to address all women selling at markets or the roadside, or in their villages, the leader would have been doing it in a small but nice shelter built by his people to ensure that the leader is speaking from a cheap but descent place. In the same way, the leader can easily ask his council or other responsible people or the army to build some cheap but nice shelters with modern equipment and leave a clean place with cement where these women can sell from instead of simply showing that he is man of the poor people who buys from them but leaves them in the same poor state that he found them in. It will also make more political campaign sense to leave permanent structures for poor women to sell from than to simply think they will remember the leader who buys from them. Surely, how much would it cost to tell each council to build these shelters along the road for these poor women?
Conclusion
In concluding, it is we Zambians who should be tough with our leaders to help them do better. All we do is criticize them politically, spend all the time reacting to articles about partisan politics. Comments are about UPND and PF rather than issues. Let us talk about leadership including criticizing them when they don't dress properly, when they buy from dirty places and when they practice cheap public relations. We should only encourage our leader to go to dirty places if only to enable him to improve them later, not simply to play the cheap politics of man of the people. We should help him to be modern and impact modern-ness to his poor including poor ones. Otherwise, what is the point of simply passing through and buying vegetables and leaving the shelter the way it looks.
By Economic. Governance
[Read 45 times, 1 reads today]