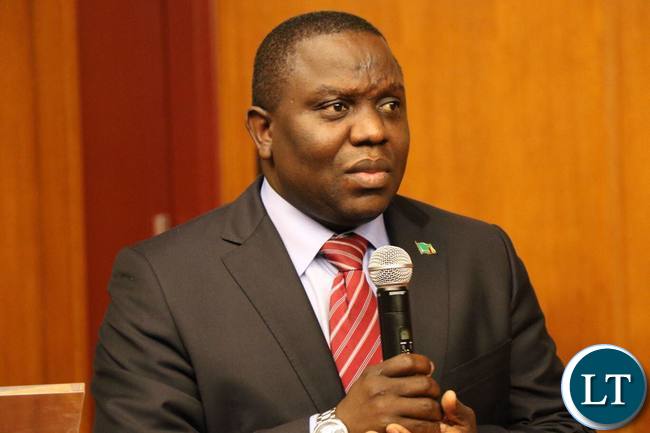 Former Foreign Affairs Minister Harry Kalaba has called for a deliberate policy that will protect Zambian owned businesses against dominance from foreign entities.
And Mr Kalaba says it is not true that he was influenced into quitting his ministerial position by controversial Prophet Shepard Bushiri.
Featuring on a special Hot Seat radio programme on Hot FM on Thursday, Mr Kalaba said the dominance of foreign owned businesses on the Zambian market is threatening the growth of the Zambian economy.
Mr Kalaba said there is need to introduce some form of protectionalism which will encourage the growth of the Zambian economy.
He cited countries such as Ethiopia and South Korea as some that have registered impressive economic growth rates by applying protectionalism.
Mr Kalaba also stated that the Zambian economy will only create significant wealth if the country introduces massive industrialisation.
"We need to industrialise, you only create wealth by producing something. Zambia is endowed with so much. We have three quarters of the SADC water. For me, we have enough potential as a country. We just have to say this can't continue," Mr Kalaba said.
He questioned, "Why are we having so many Shoprite stores all over? I am not against Shoprite, I am not against Pep Stores, I am not against Pick N Pay or anything like that but I am dragging my feet because it is those issues that are taking away from our youths. What we are doing now is that we are creating jobs for outsiders because even when the money is made, it is being externalised."
Mr Kalaba added, "How can you grow your economy? And you are then crying woof when you see a puppy because your economy is only growing at 4 percent. We can do more for the economy to grow, you go to Ethiopia where the African Union is seated. In Ethiopia, protectionalism has helped that economy. Even if you are a foreigner in Ethiopia and you impregnate an Ethiopian woman, you won't leave that country until you pay US$70,000 to maintain that woman. Yet people still flock to Ethiopia and the economy is growing at 11 percent. Even the Tigers economies are growing because the SME's are protected and the middle class is strengthened.
"In Kanyama, you will find foreigners, I have got nothing wrong with the Chinese even when I was Foreign Affairs Minister I kept saying that the Chinese are our all weather friends but we don't want them in the compounds to start doing block making or selling chickens," Mr Kalaba said.
"Why are we becoming puppets in our own country? We can't continue giving preferential treatment to foreigners at the expense of Zambians," he charged.
Meanwhile, Mr Kalaba has advised Zambian politicians to stop dragging the name of controversial Prophet Shepard Bushiri into Zambian politics.
Mr Kalaba said is not true that he was influenced into quitting his ministerial position by Prophet Bushiri as alleged by some of his political rivals.
He said he has huge respect for Prophet Bushiri and that it would be unfair to drag his name into Zambian politics.
"Prophet Bushiri is a spiritual man and like every other religious leader, for me I respect Men of God and he has got a special grace and anointing which the Lord has bestowed upon him and it is not for me to take away anything from that man," he said.
Mr Kalaba stated, "Prophet Bushiri has never talked to me about my political persuasions, Prophet Bushiri has never told me anything about me becoming President. Prophet Bushiri visited my home after we won elections and he told me that the PF was going to win re-election, he visited my home because maybe of my interactions with the Body of Christ."
"So it is not true and when we are doing politics, we should not involve the Men of the Cloth because those are not Men you want to involve in your politics, sometimes ishamo tulipepekafye fwebene (sometimes we just invite curses upon our lives) and please let's leave him out of this," he stated.
"I didn't have to be told to join the PF in 2001 by Prophet Bushiri and to run for Member of Parliament in 2011, please that is playing down my intelligence. I also have a personal relationship with my creator and remember I have a very personal relationship, for me its God and my country."