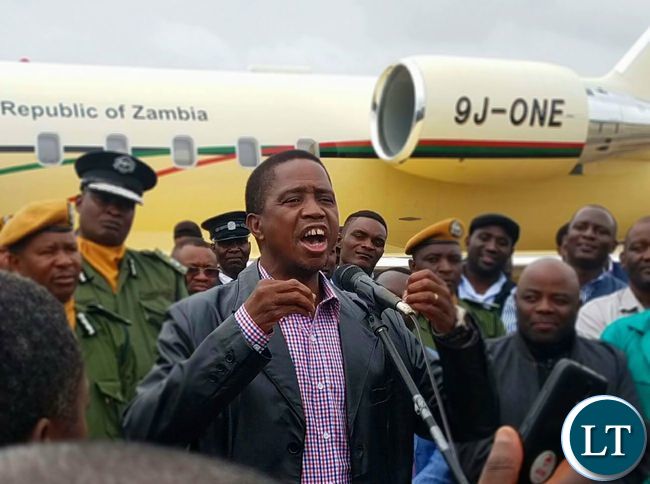 PRESIDENT Edgar Lungu has described some party members who continue to want to remain as Patriotic Front members, yet are on hills and mountains insulting the party as ironic and stupid.
Speaking at the ground breaking ceremony for the Patriotic Front Regional Office and Convention Centre in Ndola, President Lungu described the politicians still sitting in Patriotic Front seats but yet rubbishing and insulting the party as 'ichiwelewele'.
The head of state asked the aggrieved PF members to leave the party, noting that aggrieved members or those with different views do not have to insult the party publicly, but could air their concerns in-house using the many ways that the party provides.
He said; "only a foolish wife would insult her husband publicly but want to come back in the evening to eat at the household table."
President Lungu retorted; "Those who do not believe in us please, leave us… You are either Catholic or Seventh day."
Meanwhile, President Lungu said he is fixated to ensuring PF delivers it's development agenda so as to recruit new members.
He said he is committed to taking the party forward and will welcome new members with love because that is what PF is all about.
President Lungu announced that PF was aiming to not only cross the prescribed 50 plus one but a with a whooping 65 Percent.
"I am here to show the love and warmth which Mr Sata left for us… we are a welcoming party, politics is about numbers and PF is here and will always be here, we all just joined it…"
And the president said that will not be intimidated into stopping his provincial visits because of aggrieved opposition claiming he is on a campaign tour.
The head of state, who landed in Ndola Copperbelt to mark his three day working visit, laughed at his critics and told them to start campaigning if they wanted because he is just doing his job.
"Naiwe kachite campaign ngaulefwaya (Go campaign as well if you want,) The next election is in 2021 if you guys want to campaign get
started, I am just doing my job," President Lungu said.
He sternly reminded the opposition that, as Republican President, he is supervisor of the nation and in doing so can visit any part of the country he so desires.
"I am the supervisor for all ministeries, projects and the entire country. Ewo chilekalipa (whoever is hurting) can take me on," he dared.
President Lungu noted that he is a politician and does not need to fight political battles using police or Anti Corruption Commission.
"By the way let me make it very clear, do not interfere with police or ACC. When they summon you ati harassment, political intimidation… what nonsense," he castigated.
"The police will deal with every law breaker, whether opposition or in the ruling party. Ati Lungu is scared of me, he is using police to deal with me, nonsense."
For his critics President Lungu highlighted; "Why should I use police to deal with political opponents."
Meanwhile, President Lungu said that he is happy with the way the Patriotic Front (PF) party is working in ensuring that it remains strong in the Copperbelt province.
President Lungu said he will support the provincial leadership to ensure that it builds a regional PF office adding that the Copperbelt province is the heart of the nation.
The President said the PF in the Copperbelt province is moving on the right path as can be seen by the number of people joining the party.
He has since advised those that are criticising the party leadership to leave or offer constructive ideas which will help the PF move forward.
"PF is not my party or for Lusambo but for everyone. So stop segregating those joining us. Let them talk about 50 plus but us we are saying it is 65 per cent in the next election," President Lungu said.
He said the PF is growing because it is able to resolve squabbles through dialogue whenever they arise.
And PF Copperbelt Province chairperson Stephen Kainga said the party has remained strong and that all party structures are working together to uphold the legacy of political dominance in the country.
Mr. Kainga has meanwhile told those who are insinuating that the party is divided to realise that its leadership is equal to the task.
He said the construction of the party conference hall will help to improve PF operations in the province.
And PF Secretary General Davies Mwila said leadership in the province has shown commitment in moving the party forward.
Mr. Mwila encouraged party officials to commit their efforts to ensure that PF completes the building of the conference hall which will have facilities such as lounge, offices for the President and Secretary General among others.
And President Lungu has thanked residents of Ndola for cooperating with both government and the local authority when they were moved out of the streets in an effort to combat cholera.
Mr. Lungu said government will at all cost support the people in ensuring that they trade in a good and conducive environment.
President Lungu has since instructed Copperbelt Provincial Minister Bowman Lusambo to launch a cleaning exercise and ensure that all sewer drainage system in the area are unblocked within one week.
The Head of State was speaking in Ndola today when he addressed traders at Masala market.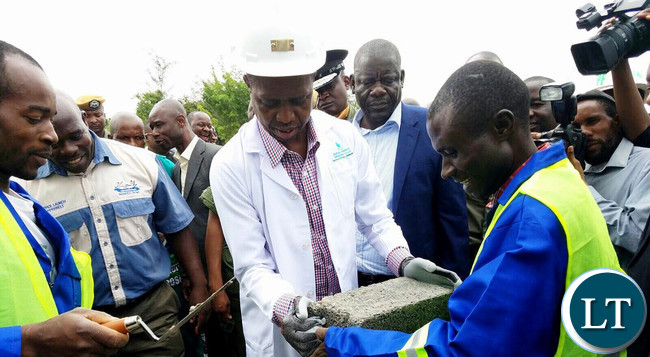 And President Lungu said he was saddened to learn that the area has no proper water supply and that most of the sewer systems are blocked.
He added that he will not allow people to trade in a dirty and filthy environment adding that people deserve better.
He promised to go back to Ndola in the next two weeks to ensure that this is implemented
President Edgar Lungu says government will not sideline the physically challenged people in the country but will instead work to improve their welfare.
Mr. Lungu said government will continue ensuring that the welfare of the physically challenged people in the country are addressed.
The President was speaking in Ndola today when he visited Kagonga farm for the physically challenged people.
And President Lungu regretted that the three boreholes which government allocated to service the area were sunk elsewhere.
He has since promised to have one borehole drilled at the farm.
He later donated books for school going children, calendars and pieces of Chitenge materials.
Meanwhile, Kagonga farm manager Patrick Miyenga said the farm is faced with a number of challenges which include transport, poor state of housing infrastructure, water and sanitation among others.
Mr. Miyenga said the infrastructure at the farm has ran down as it was constructed in the early 1990.
He said since then, there has not been any construction or rehabilitation works at the farm.
[Read 49 times, 1 reads today]