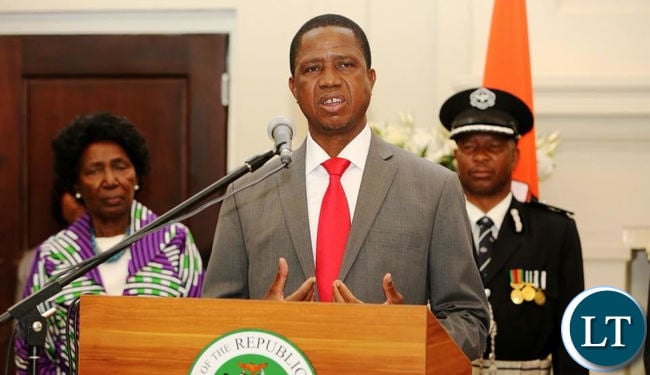 MMD Diehards Youths National Coordinator Gerald Chiluba says there is nothing sinister about the demotion of their leader Felix Mutati as the move is meant to booster team work.
And Chiluba has commended his party president for jump starting the country's economy which he found in a state of disrepair when he was appointed.
In a statement issued to the media outspoken youth said MMD members were greatful to president Edgar Lungu for the extraordinary gesture towards the party when he entrusted the country's economy in the hands of their leader.
"As MMD Die hard youth wing we wish to thank His Excellence President Edgar Chagwa Lungu for having selflessly appointed Hon. Felix Chipota Mutati to serve as minister of finance.
"The gesture was very extraordinary not only in the political life of Zambian politics but also in the political life African politics. Because it calls for trust and confidence to entrust the sensitive ministry like ministry of finance into the hands of an opposition leader.
"We wish to categorically state that, the appointing of ministers is the President's prerogative and therefore no one can question the presidents wisdom to switch players on the pitch as the driving interest of the coach is ensure that victory is achieved by using techniques that sometimes cannot be understood by spectators," Chiluba said.
Chiluba thanked Mutati for his valuable contribution towards repairing the country's economy and that he hoped the spirit of hard work will be taken to his new Ministry.
"We also want to thank Hon. Felix Mutati for having jump start the country's economy which was almost in the state of desrepair, because of his valuable contribution and team work he managed to move the vehicle of our economy a thousand miles ahead. We are confident that he shall take the spirit of hard work to the Ministry of Works and Supply because our interest is to effectively and deligently serve the Zambian people," he said.
To the opposition, Chiluba said there was nothing worthy of celebrations because his President will continue to add value to the governance of the country through his new post.
"As MMD youths we want to assure Hon. Mutati of our continued unreserved suppport in his new jacket as minister of works and supply and we shall continue to act without hesitation to defend him and the party from unwarranted attacks.
"Finally, we want to urge some opposition political parties not to make an issue out these reshuffles because there are a normal thing in every government in the world. Therefore, there is nothing sinister about the reshuffle of Hon. Mutati for the opposition to be yapping uncontrollably," he said.
Mutati was last week removed as Minister of Finance and taken to the Ministry of Works and Supply.
[Read 47 times, 1 reads today]