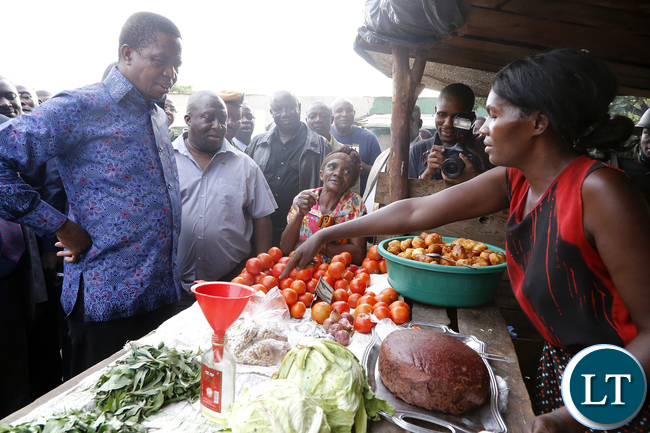 The High Court has thrown out an interim injunction by Lusaka Union of Marketeers Cooperative Society and Lilanda Marketeers Cooperative Society Limited to restrain Lusaka City Council (LCC) from taking over the running of Lilanda Cooperative Market.
This is according the ruling by Mrs. Justice M. Mapani-Kawimbe dated 13th February, 2018 obtaining in the Department of Legal Services of LCC.
LCC under minute number CDSS/64/08/17 resolved to take over the running of all cooperative markets in Lusaka for improved service delivery.
The first cooperative market to be taken over was Lilanda but Lusaka Union of Marketeers Cooperative Society and Lilanda Marketeers Cooperative Society Limited contended the move.
The two cooperatives applied for an Order of interim injunction in the High Court of Zambia restraining LCC as first Defendant and Councillor Patrick Salubusa of Kapwepwe Ward 25 as second Defendant from taking over the running of market.
The Plaintiffs contended that LCC has no right of claim on its properties, business and profits and that the council neither has a right to impose the second Defendant as Market Master.The Plaintiffs claimed that if the Defendants were not stopped, they would take over the market and impose themselves as the new leaders much to the irreparable damage of the plaintiffs' shareholders, traders and the general members.
They stated that LCC's actions was in breach of the Cooperatives Act and the Protocol of the supervising Government agency, namely the Ministry of Commerce, Trade and Industry.
In defence, LCC stated that the plaintiffs were aware of the Markets and Bus Stations Act No. 7 of 2007, which provides in section 4(1) that "The Minister or Local Authority with the approval of the Minister, may establish markets and bus stations; and section 5(1) provides that "All markets and bus stations shall be under the control of local authorities having jurisdiction in the area in which they are situated."
In her ruling, Justice Mapani-Kawimbe observed that the balance of convenience tilted in favour of the first Defendant which was carrying out a statutory function and accordingly dismissed the application with costs.
LCC is therefore elated by the ruling and hopes that other cooperatives will learn from it.The resolution by the Council to take over the running of cooperative markets is not meant to take away trading space from existing marketeers as alleged by some sections of society but to enhance service delivery in accordance with the law.
Issued by:
George Sichimba
Acting Public Relations Manager
[Read 4 times, 1 reads today]