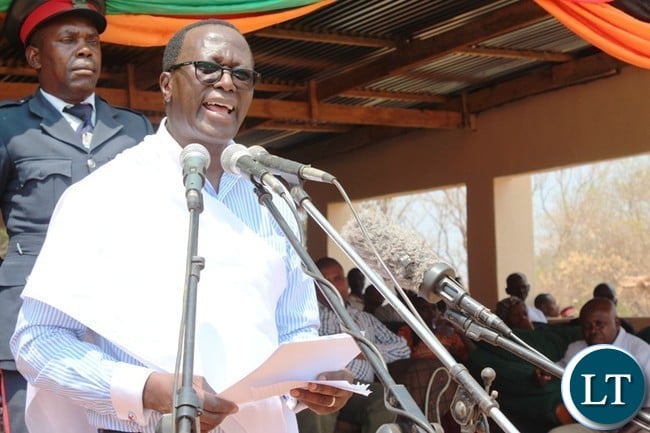 Eastern Province Permanent Secretary Chanda Kasolo has described the attitude of Zambia Police officers at the last 2018 Nc'wala traditional ceremony of the Ngoni people at Mtenguleni village in Chipata as worrying.
Mr. Kasolo said Journalists had a right to apply their work freely in order to collect accurate data and information at the event without harassment.
The permanent secretary was reacting to the letter issued to him by ZANIS Provincial Information Officer Euphrasia Banda who complained against the manhandling of the media by some security officers at the 2018 Nc'wala ceremony in Chipata district.
This follows a Lusaka based ZANIS Cameraperson Fedelis Mulenga was manhandled and ejected out of the main Nc'wala arena by some security officers at the event.
Mr. Mulenga met his fate when he (Mulenga) attempted to reason with a police officer who wanted to remove a ZANIS technician manning the Public address System from thebmain arena and was slapped in the process.
The PS has described the action by police officers as worrying adding that, instead of them exhibiting professionalism and ensuring peace and tranquility in the execution of duties they went wild harassing the media.
Mr. Kasolo said the police are supposed to be in front line carrying out duties and ensuring that there is peace as opposed to being trouble makers during important events.
Mr. Kasolo said Journalists should work hand in hand with Police officers and vise vesa in supplying information to the public, hence the collaboration between the two remains vital.
And Eastern Province Police Chief Luckson Sakala has condemned and described the attitude of the police officers as unfortunate.
Mr. Sakala said the objective of the media and of the police at the end of point was one and the same hence the need for them to work in harmony.
He has since assured the media in the province that he will not tolerate a re-occurrence of what happened at the ceremony among his officers.
Journalists who covered Nc'wala ceremony have expressed concern with the manner in which police harassed the journalist.
This comes hardly in a space of two months when a Daily Mail Journalist was again harassed by the men and women in uniform during the cleaning up exercise which is a source of concern to the media fraternity in the province.
[Read 11 times, 1 reads today]