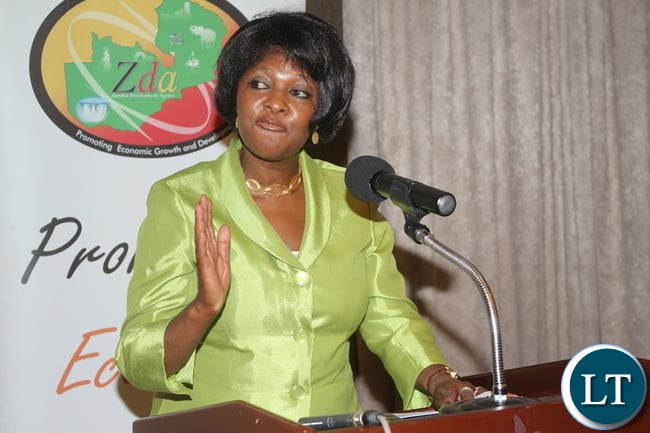 Finance Minister, Margaret Mwanakatwe has said this year's International Women's Day theme is a call for everyone to ensure that Developmental programmes are implemented without leaving anyone behind as the country seeks to attain middle income status by the year 2030.
Speaking when she officiated at the International Women's Day held at
St. Luke's Nursing School in Rufunsa district yesterday, Ms. Mwanakatwe said Government is committed making the country attain the middle income status by 2030 and does not want to leave anyone behind especially the women.
She said Government is committed to achieving gender equality and women's empowerment as enshrined in the Seventh National Development Plan, the vision 2030, and the sustainable development goals.
Mrs. Mwanakatwe affirmated that action in supporting women led and women influenced community programmes will be prioritized by all stakeholders men included.
The Finance Minister added that Government has put a number of policies and interventions to empower women in both rural and urban areas which include the girl's education, women empowerment and livelihoods funded by government with support from the World Bank.
Ms. Mwanakatwe further said other budgeted programmes from which women and the youth can benefit include the K48.2 million under the Ministry of Youth and Sport, K42.7 million under the Citizen Economic empowerment Commission, K140 million for the food security pack to benefit 80, 000 vulnerable but viable farmers and K16 million under the ministry of community development to enable 200, 000 beneficiaries to have access to education and health care.
She said all these programmes and policies are aimed at not leaving anyone behind in development and encouraged women to get involved in entrepreneurship as history has shown that business created by women tend to grow in a more exponential and stable manner.
And Rufunsa District Commissioner, Judith Chama appreciated Government for being mindful of the role the women play in the development of the country and urged the women to take advantage of government programmes and policies.
Mrs. Chama further called on the traditional leadership to continue working with government in the fight against gender based violence, early marriages and other vices that retard development.
[Read 74 times, 1 reads today]