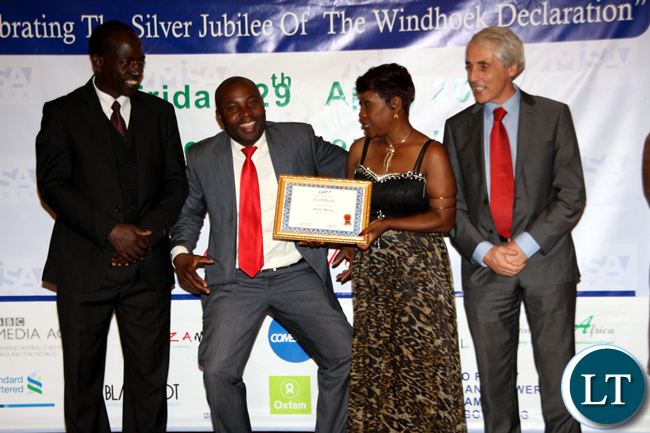 Zambian Breweries (ZB) today handed over sponsorship worth K75, 200 towards the 16th Media Institute of Southern Africa (MISA) Zambia Annual Awards.
Speaking at the event, MISA Deputy Chairperson Hyde Haguta commended ZB for the gesture to support the media by sponsoring the upcoming MISA annual Awards.
Mr. Haguta added that the gesture clearly shows that ZB is appreciative of the work the media does and is committed to developing the industry in the country.
He explained that apart from the K75, 200 given to MISA Zambia to successfully hold the awards, ZB is sponsoring two media awards categories and contributing drinks towards the event.
MISA Deputy Chairperson further explained that the media plays a vital role in the development of the country through the information that they publish thereby, inspiring change in the country.
Mr. Haguta disclosed that 22 categories in the MISA awards have been sponsored and urged more stakeholders to come on board and support the Awards.
Meanwhile, ZB Country Director Jose Moran said the media is a good partner in the circulation of information in the country hence, the media has a huge role to play.
The ZB Country Director added that, the media has been a partner in the circulation of information on how harmful alcohol abuse is to society hence, the support.
And Power FM and QFM have sponsored the MISA awards through providing airspace for advertising the categories involved.
The MISA Awards will be held on the 28th of April under the theme "promoting media excellence" at Taj Pamozi Hotel in Lusaka.
[Read 50 times, 1 reads today]