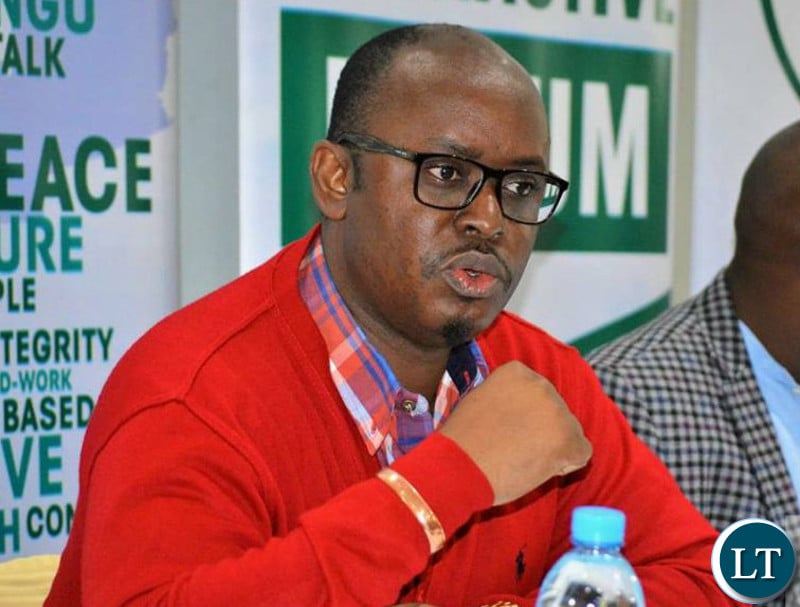 By Sunday Chilufya Chanda
There is wisdom in the age old adage that says a "drowning man clutches at straws".
It explains how a man drowning in a river or mire will clutch at a floating blade of grass in the false hope that he can heave himself over it and remain buoyant. It is the pinnacle of desperation that defies logic.
Mr. Brebner Changala's recent idle chatter  regarding the source of PF by-election campaign funds are the guttural delirium  of an opposition sinking in the mire of its own bitter muddied waters. He is outside the realm of logic and reason and his gripes are the regurgitation of sour grapes and malice.
It has also been said that insecure and envious people try to put others down to raise themselves up just as it has been observed  that some people pitifully attempt to sound smart by peppering non- issues in order to re-gain their long lost validation.
Mr. Changala and his ilk-need to be wary of false knowledge; because it is more dangerous than ignorance. Like Leonardo da Vinci once said:  "The greatest deception men suffer is from their own opinions."
Mr. Changala has deceived himself and his assertions and opinion appear to be shaped by mindlessness meanness and ignorance.
Let's help Mr Changala:
On which law does he premise his calls?  To start with, the Patriotic Front is a club and not a public institution.
As a "Political Activist" he of all people should know that any political party gets support from its members, friends and well-wishers especially during campaigns. This support does not have to be monetary but could be in the form of campaign materials, among others.
As clearly manifested in consecutive election results, (unlike the opposition) our grassroots membership has been growing steadily and organically since the Patriotic Front was formed.
In the case of the just ended campaigns, the Patriotic Front had supporters and well-wishers who printed posters and t-shirts at their own cost which they later donated to the campaign. Others voluntarily branded their vehicles for campaign purposes and the Party only came in to provide these members and well-wishers with approved designs for different candidates.
We do not know if these are the people Changala wishes to audit? Really Brebner!
Or is there a public institution which is missing funds which Mr Changala suspects could have been found in PF campaigns? Can he furnish the general public with such details? 
His assertions are not only a flagrant display of malice and ignorance but of the law on election campaigns and election funding as well.
If Changala wants to sniff around for financial impropriety in political circles then he is barking up the wrong tree. Let him sniff, burrow and follow the trail in the reeking hole of his bosom buddies-the UPND.
They are fronts for capital and they are funded by those who seek to own and control our mineral wealth …can he call on them to provide audit of their previous campaigns? 
Let Mr. Changala pursue the strong whiff of allegations widely reported in a leaked document that the UPND engaged disgraced UK data analytics firm "Cambridge Analytica" to influence voters ahead of the 2016 elections or indeed the Panama Papers and offshore accounts for Mr. Hichilema.
He should also do a study on the poverty ramifications of the Privatisation Process still haunting countless Zambians today, and the morality of questionable wealth simultaneously amassed by the UPND leader while many Zambians became jobless and destitute.
It's clear that Changala, Hakainde and their cohorts are living in bitter denial. 
It has additionally been said that the jealous are possessed by a mad devil and a dull spirit at the same time. There is a strain of delusion and a cult of malice and envy in the opposition leadership and some of the so-called civil rights activists which makes them averse and allergic to reality. They refuse to face reality, but choose to continue burying their heads in the sinking sand.
In a desperate attempt to conceal or divert attention from their own defects and the sludge they are sinking in, they grasp at imaginary straws and flaws in others. 
They have refused to man up and take responsibility to put their put their house in order. They always moan and find others at fault even when they should be looking for the culprit in the mirror. Others must always take the blame; never themselves! 
If it's not about rigging, then it's about the Electoral Commission of Zambia or the courts. And now that they recently lost 13 out of 14 elections, exacerbated by multitudes of debilitating defections even in their "strongholds", they now blame voter apathy and covetously gossip about PF Campaign funds.  What self-deceiving folly!
They more they ignore the actuality of the quick sand they are in and the more they lunge at the PF in a blind rage of envy and bitterness, the deeper they sink in the bog and the more the people of Zambia see them for whom they really are.
His Excellency President Edgar Chagwa Lungu and the Patriotic Front will not be distracted by red herrings. We are too focussed on development and serving the people.
To Brebner, UPND and company; it takes considerable knowledge and courage just to realise the extent of one's own ignorance. Truth will always be truth, regardless of lack of understanding, disbelief or ignorance. We hope this will help you for your own sake. We can explain it for you; but we cannot understand it for you.
_The author is the PF Media Director at the Patriotic Front Secretariat in Lusaka_
[Read 53 times, 1 reads today]